An epic hybrid trailer / opener / logo with a powerful symphonic choir, horns, symphonic strings, effects and explosive cinematic percussion. The trailer is very intensive and dynamical, it has a triumphal climax with a high stressful rythm and breathtaking melody. Would be good as cinematic intro or outro for a video game trailers, movies, websites, advertising, promotional, corporate videos and everything that needs a most epic trailer music or powerful opener music in a Hollywood style.
PURCHASE INCLUDES 5 VERSIONS, ALL IN MP3 / WAV
• Maximum Stress Trailer – 0:42
• Short Trailer – 0:32
• Middle Trailer – 0:36
• Long Trailer – 0:49
• Logo – 0:08
My Most Epic Music Tracks:
• The Epic
• Great Drama
• Epic Dramatic Trailer
• Heroic Blockbaster Trailer
• Epic Buildup
• Epic Increase
• Dramatic Hybrid Trailer
• Triumphant Opener Intro
• Kindly Patriotic Cinematic Action
• Bosom of the Sea
• The Essence of Courage
• Cinematic Epic Trailer intro
50% Off Pack With This Track: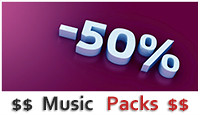 Videohive Authors
You can use this preview for your videohive projects. Please post the link in your item description and drop me a line!