This dark, hybrid, epic trailer intro contains huge drums, digital sound effects, scary risers, fast percussion and cinematic electric guitar. It starts with an almost upbeat type of sound and ends with rising sections, sounds in Hans Zimmer and two steps from hell style. It's perfect for any trailer intro that needs to get your crowd on the verge of insanity. Deep, huge digital manipulated Taiko drums, screaming synthesizer horns, fast digital percussion ryhtms, epic full orchestra stacattos and a choir section on the last part, after the break.
Music For Motion Picture Advertising and Video Game Advertising Trailer Productions – trailers, tv spots, commercials, promos, featurettes, Media Entertainment, News, Previews & tv programs.
THIS ITEM at 50% DISCOUNT: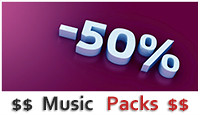 SIMILAR MUSIC:
• Great Drama
• Epic Dramatic Trailer
• Impulse
• Epic Buildup
• Kindly Patriotic Cinematic Action
• Heroic Blockbaster Trailer
• Epic Increase
• Epic Climax Cinematic Trailer
• Cinematic Epic Trailer intro
• Essence of Courage
• Epic Inspiring
PURCHASE INCLUDES 5 VERSIONS, ALL IN MP3 / WAV
• Long Version – 1:54
• Middle Version – 1:35
• Short Version – 0:56
• Looped Version – 1:47
• LOGO Version – 0:08
Videohive Authors
You are more than welcome to use this preview for your videohive projects. Please post the link in your item description and drop me a line!