Royalty Free Music with a Modern Edge
Electric Tangerine Audio is the presentation platform of South Florida-based producer and studio session player Ian McKee.
Ian has worked in the recording industry since 1992. All the years of experience in the industry gives him a decided advantage, from recording and producing, to many years of performing on any number of instruments , especially guitar, bass and Keyboards.
Ian has composed music for various ad agencies, production companies, motion pictures, and brand promotion campaigns and is known for producing amazing quality work and being fast, thorough, dedicated, and passionate. New clients always become returning clients and become great working relationships.
Music is the secret weapon that takes projects to that next level of greatness. The right music will win the undivided attention of the audience. Electric Tangerine Audio encompasses fresh ideas, originality, and modern sound sure to take film, TV, documentaries, corporate videos, and other new media applications to that next level. We specialize in composing custom music for a wide variety of projects. If you are budgeting for a film or multimedia project, please don't hesitate to contact us.






We upload new tracks regularly. You can keep up to date on our new releases, as well as updates, news, and shared information, by joining us on these social networks.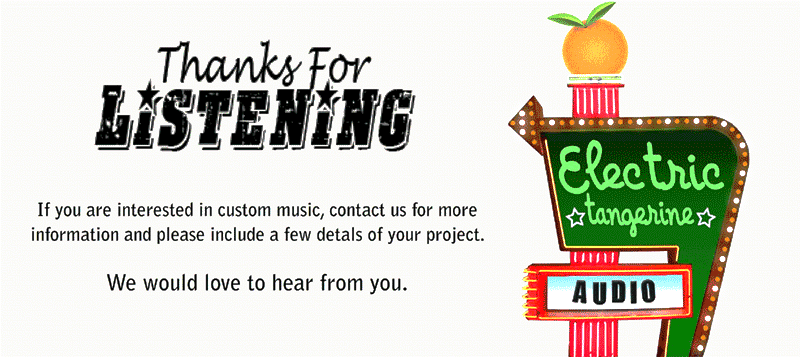 Public Collections
View All Collections