This pack contains 10 various incredibly inspiring and motivating tracks! You can find some classical, trailer, dubstep, electronic, pop and even corporate orchestral tracks.
Perfect for drone videos, trailer and heroic, epic, action movies, games, presentations etc. .
Instruments used: electric guitar and bass, strings, choir, woodwinds, brass, percussion, drums, samplers, grand piano, cymbals, fx, electronic, wooble bass and much more.
!!! Almost all tracks have few variations that are included in zip file (also 30 and 15 seconds). Preview track contains only main version of each track !!!
Tracks included:
Variations:
A1 2:37 (in preview)
A2 1:58
A3 1:22
A4 0:30
A5 4:04
B Epic Sport Motivating Orchestra Dubstep in preview from 2:37
Variations:
B1 2:44
B2 1:20
B3 0:27
B4 0:15
B5 3:38 (in preview)
C Inspiring in preview from 6:10
Variations:
C1 1:42 (in preview)
C2 2:45
C3 3:48
C4 1:10
C5 0:30
D Energetic Dark Pop Orchestra in preview from 8:50
Variations:
D1 2:03 (in preview)
E Motivating in preview from 10:54
Variations:
E1 3:00 (in preview)
E2 1:43
E3 1:08
E4 0:30
F Positive Motivating Orchestra in preview from 13:52
Variations:
F1 3:14 (in preview)
F2 1:28
F3 2:00
F4 1:00
F5 0:30
G Emotional Cinematic Dubstep in preview from 17:06
Variations:
G1 2:22 (in preview)
G2 3:08
G3 0:58
G4 0:30
G5 0:15
H Cinematic Uplifting Orchestra in preview from 19:28
Variations:
H1 2:40 (in preview)
H2 1:25
H3 1:01
H4 0:30
I Epic Cinematic Orchestra in preview from 22:06
Variations:
I1 1:23
I2 2:16
I3 0:48 (in preview)
I4 4:06
J Motivating Orchestra with Piano in preview from 22:50
Variations:
J1 2:13
J2 1:20
J3 0:28
J5 0:30
J5 4:19 (in preview)



Search music using catalog below:
Categories:
Instruments & Genres:
Moods:
Purpose:
They say about me: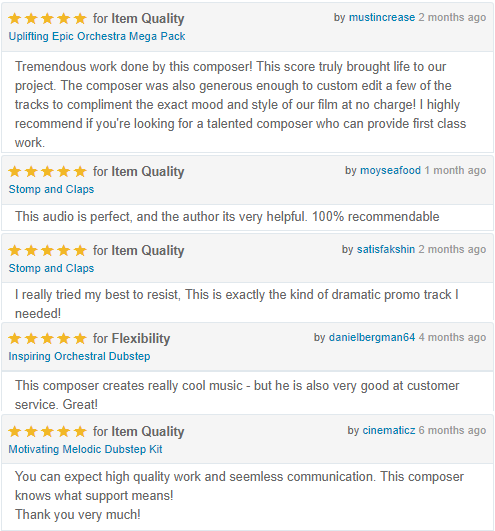 Krzysztof Pietras IPI: 00742598217