This kit has been made for creators that need flexibility. You can use simple blocks (files 1-12) or you can decompose everything using individual hits and fx (files 13-22).
Also you will have three tracks from preview that are ready-to-use. I've added separated heartbeat loop. Even more – you will have my Ableton project with kit files!
It is modern cinematic trailer with big hits and impacts with drums, orchestra and electronics. Perfect for action trailer, intro, video, movie, teaser, fps, etc.
Based on: https://audiojungle.net/item/epic-trailer-hits/19574851
More electronic and trailer music: https://audiojungle.net/collections/5883396-modern-electronic/edit
What's Inside
22 "no tails" song sections, trimmed on the beat to help you quickly arrange and snap together a guide track for your project. 22 matching "tails" song sections, with natural audio endings for smooth transitions and a seamless final result. 3 ready-to-use demo arrangements for extra convenience and inspiration. All audio files are provided as high quality WAV (44.1 kHz / 16-bit). Ableton Live 9.71 project files of the demo arrangements to help you get started.
Song Sections
01_Part1a (0:13)
02_Part1b (0:12)
03_Part1c (0:11)
04_Part1d_Hearbeat (0:16)
05_Part1d (0:16)
06_Part2a (0:12)
07_Part2b (0:12)
08_Part2c (0:12)
09_Part2d (0:17)
10_Part2e (0:12)
11_Outro (0:12)
12_Outro2 (0:08)
13_Heartbeat_Loop (0:04)
14_Hit1 (0:19)
15_Hit2 (0:08)
16_Hit3 (0:13)
17_Hit4 (0:11)
18_Hit5 (0:08)
19_Hit6 (0:10)
20_Fx1 (0:05)
21_Fx2 (0:15)
22_Fx3 (0:15)
Demos
Demo_01 (1:01) was made using these song sections in this order:
20 1 2 3 20 4 6 7 8 9 10 11 13
Demo_02 (1:00) was made using these song sections in this order:
13 21 16 15 17 19 22 6 6 10 18 16
Demo_03 (0:46) was made using these song sections in this order:
20 14 16 5 8 9 10



Search music using catalog below:
Categories:
Instruments & Genres:
Moods:
Purpose:
They say about me: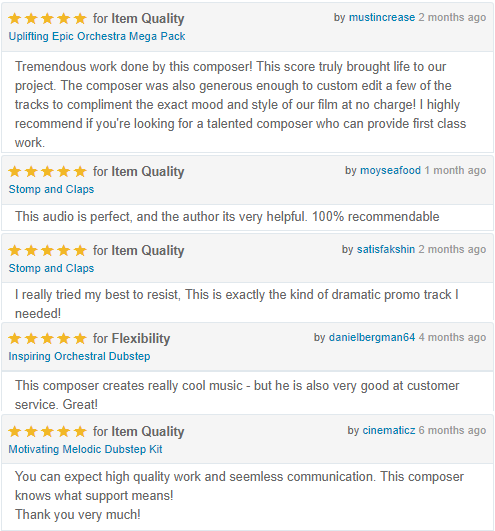 Krzysztof Pietras IPI: 00742598217