Fast typo stomps and claps with drums, wood and metal percussion. Perfect for typography, action trailer, intro, opener, logo, video, movie, teaser, fps, etc.
Musical hint: You can connect sections using swooshes sections (number 23 and especially 24) on the third track in your software. It can glue sections and make interesting transition sfx wherever you want.
Technical hint: be aware of auto-fades which your software can automaticly add to the beginning of audio file. In music with strong transients it's recommended to remove those fades.
Based on: https://audiojungle.net/item/typography-dynamic-stomp/19928844 What's Inside ­ 25 "no tails" song sections, trimmed on the beat to help you quickly arrange and snap together a guide track for your project. 18 25 18 22 9 24 23 21 24 15 15
23 25 9 24 10 24 13 24 14 24 15 24 1 24 2 24 1 25 2 25 3 24 23 9 24 10 24 11 25 12 24 13 24 14 24 15
Demo_03 (0:50) was made using these song sections in this order:
25



Search music using catalog below:
Categories:
Instruments & Genres:
Moods:
Purpose:
They say about me: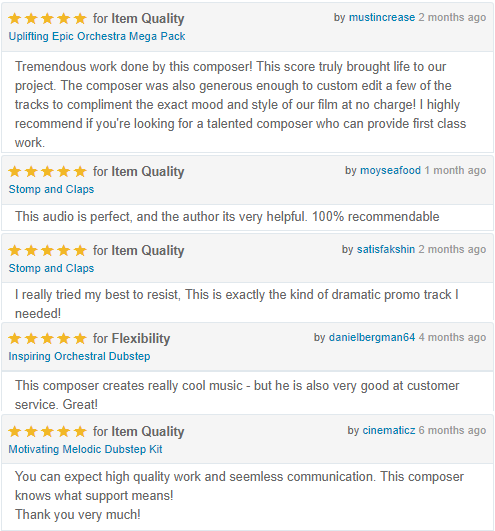 Krzysztof Pietras IPI: 00742598217