This pack contains 7 modern, miscellaneous, creative and very characteristic stomp percussive tracks! It also contains my bestseller "Big Typo Stomp, Drums and Claps" track.
Perfect for typography, commercial, trailer and heroic, epic, action movie, game, presentation, background, infographic, slideshow, jingle, opener, vlog etc.
Instruments used: electronic fx, clock sound, claps, snaps, stomps, drums, tiki takas, shakers, tambourin, triangle, woodblock, clave and many other percussion instruments.
!!! All tracks have few variations that are included in zip file (also 30 and 15 seconds). Preview track contains only main version of each track !!! To check sound and length of included versions, check link in track description below.

Tracks included:
Variations:
1. 0:25
2. 0:30 longer counting intro
3. 0:15
4. 0:24 without alarm and beeps FX
5. 1:18 (in preview)


B Clapping
Variations:
1. 0:37
2. 0:14
3. 0:27
4. 1:33 (in preview)


C Big Typo Stomp, Drums and Claps
Variations:
1. 0:24
2. 0:30
3. 0:13
4. 1:09 (in preview)
5. 0:39
Variations:
1. 1:04 Long (in preview)
2. 0:26 Main
3. 0:26 with added DJ scratch
4. 0:10 only riser
5. 0:13 Short


E Stomp
Variations:
1. 0:30
2. 0:21 alternative
3. 0:15
4. 1:00 (in preview)
5. 0:26 typical stomp without characteristic FX
Variations:
1. 0:35
2. 1:00 (in preview)
Variations:
1. 0:28
2. 0:20
3. 0:15
4. 0:06
5. 1:14 (in preview)
This package was used in the VideoHive project: by Tjumpus: https://videohive.net/item/stomp-hud-logo-reveal/21020038



Search music using catalog below:
Categories:
Instruments & Genres:
Moods:
Purpose:
They say about me: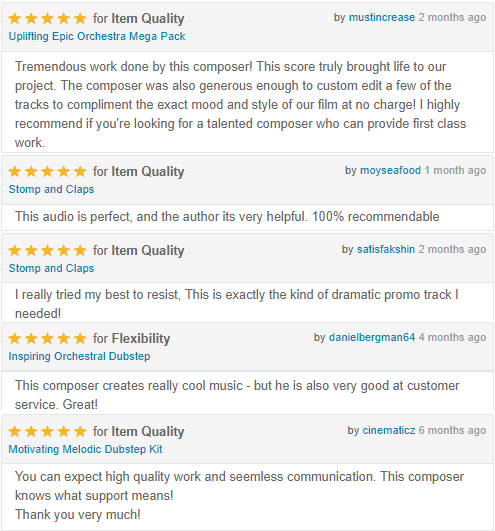 Krzysztof Pietras IPI: 00742598217