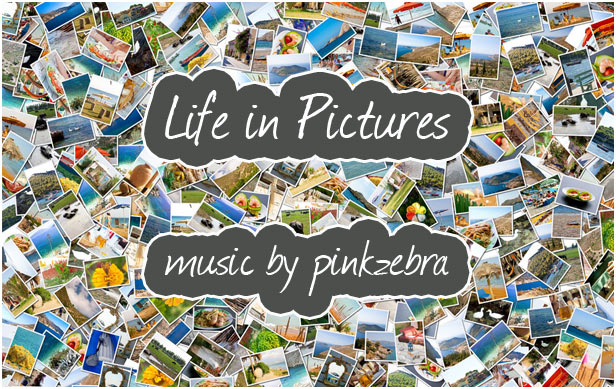 MUSIC KIT description
A hopeful, uplifting and positive track with warm vibes and sentimental overtones perfect for photo slideshows, commercials and advertising, business videos, baby videos, YouTube projects and more. This track has a wonderful build as the opening piano thread leads to additional inviting layers of pads and guitars. A perfect track for telling a story of life in pictures.
What is a MUSIC KIT?
A
MUSIC KIT
is a collection of pre-edited individual song sections that can be rearranged easily and flexibly like musical building blocks to create custom-timed and custom-structured music tracks. Music kit sections contain natural decaying "tails" that allow for seamless transitions.
All of the sections from my original
"Life in Pictures"
are included in this music kit. My three demos show some possible combinations for creating a long version, a one-minute version, and a 30-second version.
WAV files of all three demos (unwatermarked) plus documentation containing instructions and a description of the segment sequence for those demos are included within the zip file you will download.
WAV files included in MUSIC KIT:
01_Intro
(0:16)
Introduction with piano, kick drum
02_Section1
(0:16)
Piano, acoustic guitar, synths, and kick drum
03_Section2
(0:16)
Piano, acoustic guitar, synths, melodic bass, and kick drum
04_Breakdown
(0:04)
Piano and synths, with crescendo swell
05_Section3
(0:16)
Full band with guitar melody
06_Section4
(0:16)
Full band, guitar melody and guitar harmony
07_Section5
(0:16)
Full band builds to climax
08_Climax
(0:16)
Full band climax
09_TransitionToEnd
(0:12)
Transition to end
10_Ending1
(0:07)
Soft piano chord ending
11_Ending2
(0:07)
Full band chord ending
12_EXTRA_ShortPhrase1_4Bars
(0:08)
4-bar phrase similar to intro
13_EXTRA_ShortPhrase1_2Bars
(0:04)
2-bar phrase similar to intro
14_EXTRA_ShortPhrase1_1Bar
(0:02)
1-bar phrase similar to intro
15_EXTRA_ShortPhrase2_4Bars
(0:08)
4-bar phrase similar to Section3, minus guitar melody
16_EXTRA_ShortPhrase2_2Bars
(0:04)
2-bar phrase similar to Section3, minus guitar melody
17_EXTRA_ShortPhrase2_1Bar
(0:02)
1-bar phrase similar to Section3, minus guitar melody
Demo_1
(2:20)
Demo_2
(1:00)
Demo_3
(0:30)
Demo tracks were built using the following sequences
Demo_1
Created using song sections in this order: 1, 3, 5, 6, 2, 6, 7, 8, 4, 10
Demo_2
Created using song sections in this order: 12, 2, 5, 7, 11
Demo_3
Created using song sections in this order: 13, 6, 16, 17, 11

To find similar music follow these tags:





Top-sellers, Songs with Vocals, and New Music



Speed Search
Web and social media links






Attention all VideoHive authors:
You may use any of my preview tracks for your VideoHive items provided you give my music track a link in your description (like "featuring the music track 'In the Moment of Inspiration' by pinkzebra"). Also, please send me an email to let me know about your item so that I can include links to your item in my profile and item descriptions to help promote your VideoHive item. Thanks! ~pinkzebra