An inspiring, motivational and uplifting song about holding on to your dreams and fighting to make them come true. "Hold On to Your Dream" is for every person who've ever had a dream to be, do or achieve something. It's about the future athlete, musician, business owner, student and mother who simply have a dream. It's about rising through the challenges, proving the doubters wrong, and having faith in yourself to achieve your goals.
This song is a perfect fit for sports montage videos, fundraising videos, charity videos, faith-based videos, motivational videos, Disney movies, children movies, movie soundtracks and any project meant to inspire and instill a sense of confidence in oneself and a bright outlook for a successful future.
You will also receive a FREE instrumental version that will be included with your purchase.
Files included in the zip:
Hold On To Your Dream (3:01) WAV & MP3
Hold On To Your Dream – Instrumental (3:01) WAV & MP3
Thanks for purchasing and please remember to rate





LISTEN TO ANOTHER VOCAL POP HIT HERE: ON TOP OF THE WORLD
Lyrics
Have you believed in anything
You risk your whole life to fulfill a dream
The time is now you got to go
If you don't reach you'll never know
And hold on to your dream and
And don't let go
Everyday you push and fight
I see the vision your futures bright
I believe you can do anything
This is your life your destiny
And hold on to your dream and
And don't let go
And don't let go
There's something better for your life
You think about it every night
And every time you have a dream
You believe you can do anything
And hold on to your dream and
And don't let go
Oh I believe in your dream
Yes I believe in your dream
Oh I believe in your dream
Yes I believe in your dream
And hold on to your dream and
And don't let go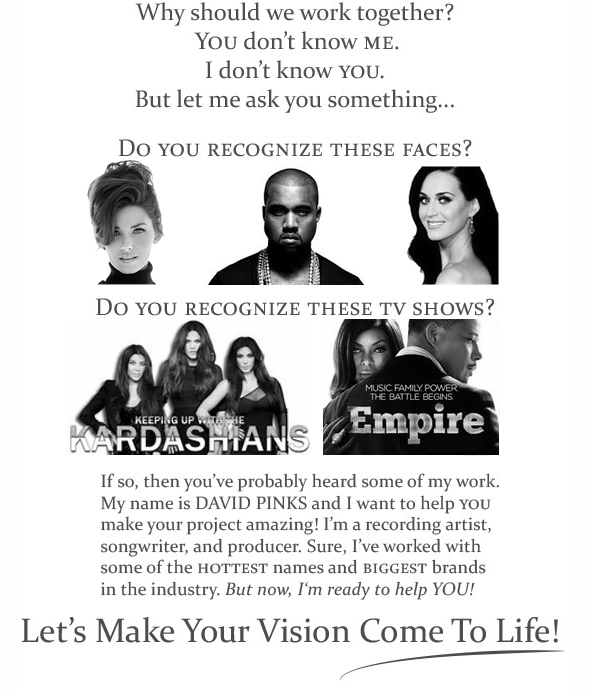 QUICK SEARCH