"On Top Of The World" is one of my favorite songs I've created this year. It's extremely catchy and fun, and its retro vibe will give you a lot of flexibility for many different projects including; commercials, advertising campaigns, promos, fashion, movies and just anything cool!. The lyrics are positive, exciting, and will brighten up anyones day
… Along with its smooth vocals, this track includes instruments like piano, horns and bass.
You will also receive a FREE instrumental version that will be included with your purchase.
Sounds Like: Bruno Mars, Pharrell
Files included in the zip:
On Top Of The World (2:25) WAV & MP3
On Top Of The World – Instrumental (2:25) WAV & MP3
Thanks for purchasing and please remember to rate





LISTEN TO ANOTHER VOCAL POP HIT HERE: NO OPTION TO FAIL
Lyrics
Yea I woke up this morning, had the sun in my face
Ain't nobody gon' stop me, I'm bout to have a great day
Now my juices are flowing, I got a lot to do
And All this positive thinking, got me in the mood
Cause I'm feeling great, feeling good
Feel like I'm on top of the world
Yes I'm feeling great, feeling good
Feel like I'm on top of the world
I know you think that I'm dreaming, you see the smile on my face
Ain't no way that I'm sleeping, don't want to miss today
Now my juices are flowing, I got a lot to do
And All this positive thinking, got me in the mood
Cause I'm feeling great, feeling good
Feel like I'm on top of the world
Yes I'm feeling great, feeling good
Feel like I'm on top of the world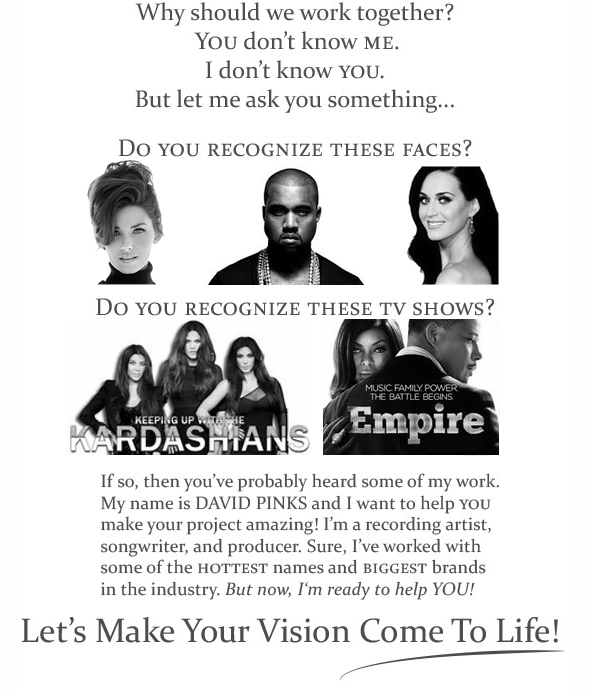 QUICK SEARCH