AudioJungle Advanced Search on Soundizer.com
1. Locate AudioJungle undefined track by sample
Click
here
to locate AudioJungle undefined track by mp3 sample or by youtube video.
2. Advanced Search for AudioJungle tracks
Use wide range of filters (see
here
on the left panel) by Length, BPM, Categories, Sales, Rating, Creation Date and etc. to find specific track that you need.
3. Search for AudioJungle tracks by mood
Click to
heatmap area
to drill down into subcategories and moods.
Bright Positive Optimistic
Motivational Uplifting
Happy Fun
Energetic Powerful
Relax Calm Atmospheric
Epic
Dark Tenson Horror
Aggressive
Dramatic
Suspense Mysterious
Romantic Sentimental
Magical Dreamy
Sad
Old Retro
4. Search for AudioJungle tracks by authors
Find tracks using filters by authors sales and rating or by authors name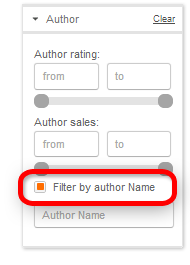 For AudioJungle authors
1. Do you know how many VideoHive authors are using your tracks?
Find out how many VideoHive authors are using your tracks in their videos. Find your track at
soundizer.com
and click "Search in videos" link:

2. Tracking VideoHive videos
If you want to get
email notifications
about new VideoHive items with your tracks welcome with +1 here
Track new VideoHive videos with Soundizer
.
3. You have a big AudioJungle portfolio? Or nobody can't find your best track?
Provide buyers with the tool for searching your tracks.
Place the link at your profile page:
http://search.soundizer.com/?FilterByAuthorName=on&AuthorName=
YOUR_NAME
Don't forget to replace text "YOUR_NAME" to your AudioJungle login name and it should work!
Here are some code samples to embed banners into your profile pages:
<a href="http://search.soundizer.com/?FilterByAuthorName=on&AuthorName=AUTHOR_NAME"><img src="http://soundizer.com/img/banner5.png" /> </a>
<a href="http://search.soundizer.com/?FilterByAuthorName=on&AuthorName=AUTHOR_NAME"><img src="http://soundizer.com/img/banner6.png" /> </a>
<a href="http://search.soundizer.com/?FilterByAuthorName=on&AuthorName=AUTHOR_NAME"><img src="http://soundizer.com/img/banner4.png" /> </a>
<a href="http://search.soundizer.com/?FilterByAuthorName=on&AuthorName=AUTHOR_NAME"><img src="http://soundizer.com/img/banner7.png" /> </a>
<a href="http://search.soundizer.com/?FilterByAuthorName=on&AuthorName=AUTHOR_NAME"><img src="http://soundizer.com/img/banner8.png" /> </a>