Welcome to Madd Matt Audio Labs
Thanks for stopping by and checking out my stuff!
My passion is making music. Guitar is my main instrument, I have been playing in bands, both for fun and professionally for years. I get stoked at the thought of anyone using my music to enhance their own creative projects. I hope my music can find a good home.
Please feel free to contact me if you need some edits or customization. Unfortunately, a hard drive crash wiped out some of these native files, but if I've got it, I'm happy to change it for you.
-Madd Matt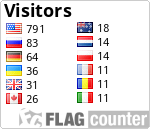 Public Collections
View All Collections