m3m.... And your project sound awesome!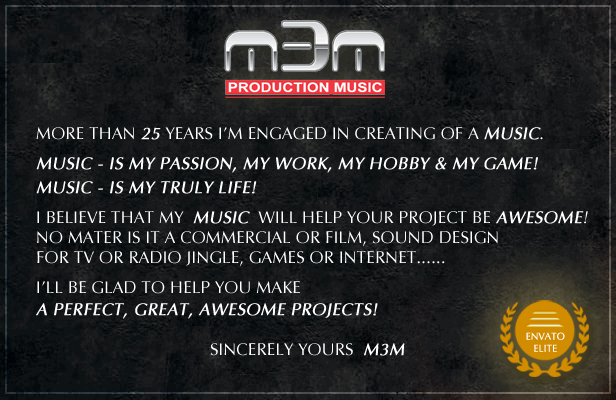 Over the years i have helped find an unique sound for commercials, ads localisations, adaptations, games, tv and radio jungles for thousands of my clients/partners. Such as…

Thanks for stopping and especially big thanks to everyone who support my work. You can check out my portfolio using the categories below or you can click on the PORTFOLIO link to view my whole music available for you.

Subscribe to my Youtube with new music video every 2 days.

*Videohive authors. You may use any of my preview tracks for your projects provided you give my music track a link in your description (like "featuring the music track Motivational and Inspiring Success by m3m"). Also, please send me an email to let me know about your item so that I can include links to your item in my profile and item descriptions to help promote your project.

Feel free to visit my website www.AlexPRO.kz for more information about me and what services i can offer to you!
Thanks! Alex

You can click on each icon to discover VideoHive videos used my music

Public Collections
View All Collections