LGuitarB
Hi, my name is Laurent G. Bruning (I figured the G could stand for 'Guitar').
I've always been fascinated by the power of music to create an instant mood or atmosphere, and that's exactly what my music on AudioJungle is meant to do.
Here on AudioJungle you'll find my ready-made tracks, but of course I could also provide custom made tracks for you. Some samples of these and conditions you can find on my website iplayguitaronline
I started playing guitar when I was twelve and recording music already three years later. Back then that was done using two stereo cassettedecks, copying two tracks of one recorder to one track of the other, after which another track could be added, thereby creating multitrack recordings.
Later I moved on to using a multitrack cassette recorder and a drum computer, and eventually in the late nineties to hard disk recording and using sequencing software.
Of course nowadays I use modern recording software and sound modules, good quality amplification, guitars and microphones to create recordings of high standards. Recording continues to play a major role in my musical activities today. My music for non-commercial purposes can be found at https://laurentbruning.bandcamp.com/
References:
Latin Summer has been used in this XML template by top selling ActiveDen author MBMedia. Check out his great designs!
VideoHive author GGv used several of my recordings in:
Soft Sea Waves
Across the Coast2
Sunbeams Reflecting Sea Close Up
Clean Water
Cloudy Morning
Shadow of Cable Car over Pine Trees
Lake and Snowcovered Mountain with Clouds
Crystal Sea
Sea Sunset (4-pack)
Car Wheel On Snow
Christmas Fireplace
Seaside Town
VideoHive author VideoMagus:
Classic Guitar – Pack Of 3 Transitions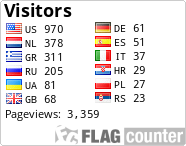 Public Collections
View All Collections