"War Game Loop" is an action, intense and dramatic song created for games, videos, blockbusters, movie trailers films, etc. It`s very dramatic and adventure song filled with strong and positive energy. It`s created as a loop in four parts so you can combine the as you wish. If you need any help I`m here. It`s in the wav file so it looped perfectly!
UPDATE!!! Before you buy this song please check a great value of awesome Battle Movie Pack and save money!!!
For more similar tracks/packs visit my collection!!!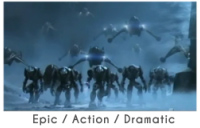 HERE IS MY COLLECTION: