"The Pirates" is an action, cinematic uplifting piece of orchestral, royalty free music designed for use in film, television, trailers or commercials. Perfect for that epic YouTube sting! ' The Pirates' is an instantly recognizable mood setting piece of music. Introduced with a string arpeggio, which builds with the orchestral that build intensity alongside other instruments in the background. The mood is then taken to the next level with the big orchestral, drums, positive melody, adventure visuals and much more. "Pirates" is the perfect sting, opener, backing track, branding piece, orchestral track filled with strong and uplifting positive energy.
Don`t miss similar track PIRATES
You can find this song in my Battle pack 2
For more similar tracks visit my collection!!!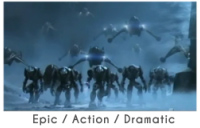 Here is my collection: