Technological Inspiration is modern, emotional and positive light electronic background track with piano, synth sequences, electronic percussion, atmospheric pads, bass and rhythm section for your technology / science / hi-tech or any else projects.
Sounds modern and futuristic, inspiring and minimalistic, fresh and innovative, airy and atmospheric. Associated with devices, gadgets, innovations, inventions, inspiration, positive mood, hope, happy moments, science, future, Sci-Fi, mechanisms, robots, technologies, light, computers, hardware, space, cosmos, production, machines, Hi-Tech.
Perfect as background music for technology presentation, sci-fi videos, science projects, device review, commercial infographics, interview, time lapse clips, inspirational projects, short clips, youtube videos, corporate projects, soundtracks, TV-shows, cinema production, advertising, commercials, movie, games, radio, promotions, etc.
This Technological Inspiration Kit is based on my original track Technological Inspiration
What's inside
THREE READY-TO-USE ARRANGEMENTS:
Demo 01 – full version (3:18)
Demo 02 – medium version (1:48)
Demo 03 – short version (1:03)
12 SONG SECTIONS
All audio files are provided as high quality WAV (44.1 kHz / 16 bit). Each section has "tail" version for smooth transitions and "no tail" version for quick arrangement tryouts.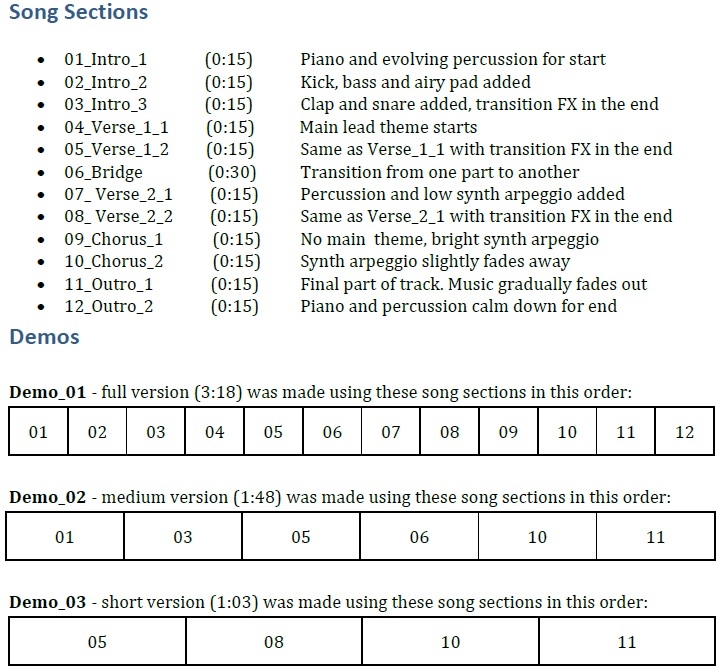 A DOCUMENT CONTAINING DETAILED INSTRUCTIONS IS PROVIDED
Thank you for a buy! And please don't forget to rate this kit.
If you have any questions, please feel free to contact me!
lifeplanetearthproduction@gmail.com