An evil magician trapping the hero and her party, using their metal armor to magnetically suck the life force, mana, hp and blood out of their bodies to serve to his minions (0:02).

This magical sfx was created for games, movies, films, entrance flash presentations, business projects, news, telecasts, podcast, slideshows, corporate videos, websites etc.

Useful for realistic, science fiction or fantasy settings and comedic or serious themes.

Available in both 320kbps mp3 and 16 bit, 44100 hz wav audio file format.
Relevant Sound Packs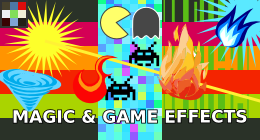 Magic and Game Effects
All qubodup Sounds