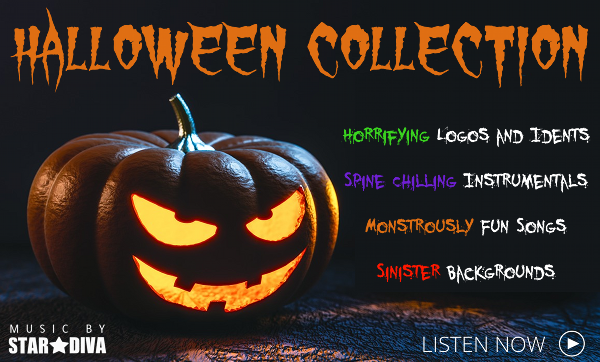 Halloween Pack – 3 spooky, quirky orchestral tracks for your Halloween projects.
Halloween is an upbeat, spooky track that?s full of fun and mischief. It?s an epic cinematic track for full orchestra and choir and features a haunting theremin melody, and a chilling harpsichord accompaniment. It?s full of Danny Elfman humor and character and will work well in any Halloween projects, and also as game audio.
2. Spooky Halloween (2:16 – starts at 2:08 in preview)
Spooky is a cinematic and quirky orchestral waltz featuring celesta, strings, woodwind and choir. This track sounds like John Williams' score to Harry Potter and Danny Elfman's Edward Scissorhands soundtrack. It?s perfect for Halloween! It creates a wondrous, magical background for game audio, setting the scene in films and movies as well as Halloween commercials and youtube videos. It's great for kids and children as its not too scary and will perfectly underscore Halloween themed projects such as makeup tutorials, pranks, Halloween parties and more!
3. Halloween Song (2:05 – starts at 4:26 in preview)
A Halloween song in a quirky orchestral style a la Danny Elfman.
LYRICS
Halloween Halloween
Spooky kooky Halloween
Halloween Halloween
Creepy freaky Halloween
—-—
Witches' broomsticks fill the sky
While zombies rise from graveyards
Such a gruesome sight on Halloween night
Better hope you don't die of fright!
—-—
Chorus
—-—
Moans and groans to chill your bones
A werewolf howls at the full moon
Banshees add to the hullabaloo
You know there's room in my coffin for two!
—-—
Chorus
—-—
All alone
The rooms goes cold
Something slithers in the shadows
Better shut your eyes
You're in for a surprise
Soon you won't fear a thing
—-—
Chorus
—-—

Included in the download:
1. Full Track – 2:05 (0:00-2:05 in preview)
2. Instrumental Track – 2:05 (2:06 – 4:10 in preview)

SEARCH MY PORTFOLIO
CHECK OUT MY BESTSELLERS