A very flexible and easy to use royalty-free Corporate Music Kit with a groovy and contagious rhythmic feel. It has 17 "music pieces" for you to handle and put together as easily as you would do with LEGO bricks, allowing you to achieve many tracks with different moods and a great diversity of lengths.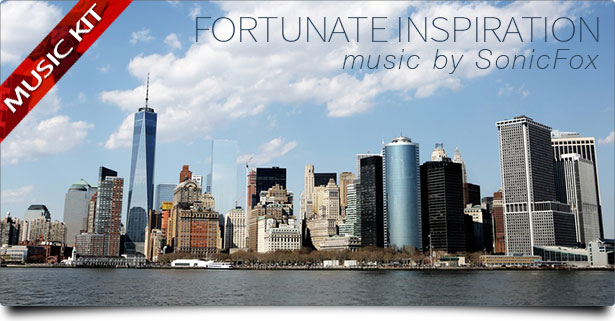 Based on a tune that has a distinctive 70's disco feel that also reminds the late groovy and catchy Daft Punk dance style, this instrumental Music Kit is an ideal choice for promotional and commercial advertising, sports, corporate projects, presentations, branding campaigns and any project with messages of success and positivity.

Instruments: Electric Guitars, Acoustic Guitar, Piano, String Section, Bass, Drums


WHAT'S INSIDE


17 "no tails" song sections, trimmed on the beat to help you quickly arrange and snap together a guide track for your project.
17 matching "tails" song sections, with natural audio endings for smooth transitions and a seamless final result.
3 ready-to-use demo arrangements for extra convenience and inspiration.
3 additional arrangements suggestions of 1:32, 1:56 and 2:22 long that you can put together right away.
All audio files are provided as high quality WAV (44.1 kHz / 16-bit stereo).
DEMO ARRANGEMENT TRACKS
(2:59)    Demo 1 - was made using these song sections in this order:

01 03 05 07 10 11 13 15


(0:59)    Demo 2 - was made using these song sections in this order:

02 10 12 16 (preview at 3:00)


(0:28)    Demo 3 - was made using these song sections in this order:

17 14 16 (preview at 4:00)
SONG SECTIONS
(stereo WAV files)
(0:16)    01_Intro1
(0:16)    02_Intro2_NoKick
(0:33)    03_Chorus1_Part1
(0:33)    04_Chorus1_Part1_NoMelody
(0:33)    05_Chorus1_Part2
(0:33)    06_Chorus1_Part2_NoMelody
(0:33)    07_Bridge
(0:33)    08_Bridge_NoMelody
(0:16)    09_Chorus2_Part1
(0:16)    10_Chorus2_Part1_NoMelody
(0:16)    11_Chorus2_Part2
(0:16)    12_Chorus2_Part2_NoMelody
(0:16)    13_Chorus2_Part3
(0:16)    14_Chorus2_Part3_NoMelody
(0:14)    15_Ending1
(0:09)    16_Ending2_Shorter
(0:02)    17_EXTRA_TransitionEffect



Original music
specifically composed to fit your project is a
powerful storytelling aid
. Our professional skills allow us to compose
any music genre, tailored to any brief
, and we can also apply changes to existing tracks of
our portfolio
to better suit your needs.
Drop us a line
, we'll be glad to arrange a
great deal
to help your project
stand out from the competition
.