-Based on my AJ item:
https://audiojungle.net/item/dramatic/3032461
MUSIC KIT description
This is my new Dramatic Cinematic Intro battle track with exciting sound. Track contain different bright instuments – big war drums, violins, cello, live bass, strings, brass, bells, etc…I've included in kit different versions of this track – original 2min, 60sec and 30sec logo intro versions, for your comfortable using…This track can be used anywhere – as an epic musical background for business websites, computer arcade games, tv or radio jingles, advertising and commercial youtube corporate video, business projects, high tech presentations, sport photo slideshows, business or sports news, telecasts, podcasts, in war games and movies, documentary scientific films, as a movie trailer or adventure music for website's background..Enjoy!
What is a MUSIC KIT?
A
MUSIC KIT
is a collection of pre-edited individual song sections that can be rearranged easily and flexibly like musical building blocks to create custom-timed and custom-structured music tracks. Music kit sections contain natural decaying "tails" that allow for seamless transitions. I've included Adobe Audition project file with all parts of the song to help you get started.
All of the sections from my top-selling original track
WAV files of all three demos (unwatermarked) plus documentation containing instructions and a description of the segment sequence for those demos are included within the zip file you will download. WAV files and Adobe Audition project with all parts of the song included in MUSIC KIT: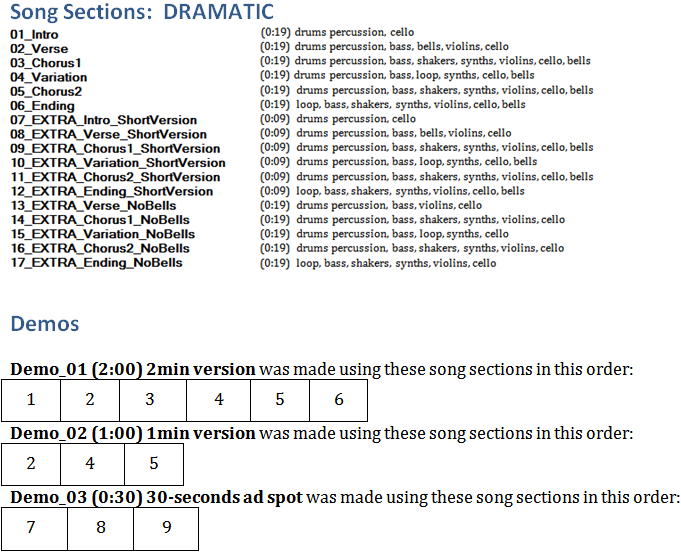 MY COLLECTIONS

DON'T MISS MY VIDEO JUST FOR 4-6$