High quality cinematic track. Use this track for films, shows, tv, radio, animations and more. Straight from my "Music for Film" line of audio tracks. For more information about my "Music for Film" line or to hear the full list of music tracks I offer, go to my website at www.derekpalmermusic.com. Thank you!
About The File/s: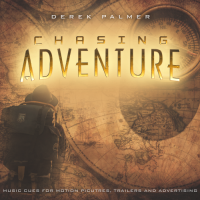 Track/s In File:

Chasing Adventure (1:28)

ALL FILES ARE IN PREVIEW
Genre
Cinematic/Orchestral
Style
Action/Adventure
Track Summery
Harking back to the dramatic and energized film scores from the late 80's and 90's adventure films, this track features an energetic action/chase score perfect for your adventure projects. Pulsing rhythms with intense and chaotic horns, driving strings and rising tension ending in a climatic wall of sound. If adventure has a name, this would go along side it perfectly. This is "Chasing Adventure".
Social
Also, if you would like to send any testimonials about my music, you may do so. I will post the testimonials on my website. Just send an email with "Music Testimonial" or something along those lines in the subject line of your email. Also, if you have a link (IE: youtube video, myspace video, ect) that shows how you used my music in your projects, I would love to see them! Thanks for your interest in my "Music for Film" line of audio tracks!