Metal and wood mixed into a signature sound of swingin an axe to break down a door or remove a head from a body for execution (0:01).
Can be used for attacks in video games, advertisements or clips to make logos appear or disappear quickly or to give sound to weapon movement or punch hits.
Useful for realistic, science fiction or fantasy settings and comedic or serious themes.
Available in both 320kbps
mp3
and 16 bit, 44100 hz
wav
audio file format.
Relevant Sounds
Relevant Sound Packs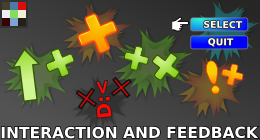 Interaction and Feedback Collection
All qubodup Sounds