IDMusic
I believe that music's purpose is to convey emotions and have  the listener go through a journey of feelings. When a strong visual is added, the effect is multiplied and the experience is complete.
My music is at the service of the visual, but can stand on it's own.
I compose music for any purpose, in various styles and genres, in various lengths and moods. In addition I produce original songs for artists, perform sound design and editing, and film scores. 
If you like one of my tracks, and feel like buying it, but you need something changed, don't hesitate to contact me, and I'll do my best to help you, if that's possible.
Also, I would appreciate it if you rate and comment on your favorite items, and let me know where my music was used.
Feel free to comment, suggest or ask anything you need.


Thank you very much for your interest in using my music in your next project! The combination of a great visual with great music really makes it attract attention and sales!
If you would like to use my music, I ask that you add music credits in your project if possible (If it uses any text). If it can flow with the project please add "Music by IDMusic" somewhere.
Also please have a link (like usual) in the description on the project page as well. If you choose any of my tracks, please contact me so I can put your video on my profile page as well and help you promote it. Thanks again for your interest, I look forward to working with you!
ID.Music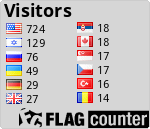 Public Collections
View All Collections