Excellent collection of 3 corporate technology style tracks with 50% discount. Inspiring motivational uplifting minimal corporate tracks. Really subtle calm and positive, has great editing and looping possibilities. Has really light and corporate sound great for presentations, backgrounds, web, family, business videos e.t.c.
Sounds like: corporate pack, the corporate, corporate collection, corporate music, business pack, business collection, business music, corporate music, uplifting corporate pack, uplifting corporate music, inspiring corporate pack, inspiring corporate music.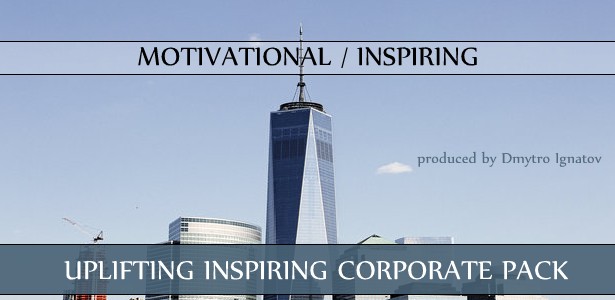 Songs in the pack:
1. Corporate Length: 2:19 Corporate – uplifting, motivational, warm, calm inspirational track with great looping possibilities for even better results. Sounds like motivational, inspiring, soft, minimal, optimistic, corporate, technology, warm, positive. Great for corporate backgrounds, business videos, family video, presentation, tv, radio, promotion e.t.c.

2. Inspiring Corporate Technology Length: 2:25 Corporate uplifting, inspiring and motivational background music that will work great with your business corporate videos, inspirational and motivational videos, presentations and much more.

3. Success Corporate Length: 2:21 Minimal, simple, motivational, positive corporate track features mute guitar, soft piano, sounds really inspirational, cheerful, upbeat, uplifting. Great for business video, motivational video, family video, slideshow, presentation, branding, commercial and much more.