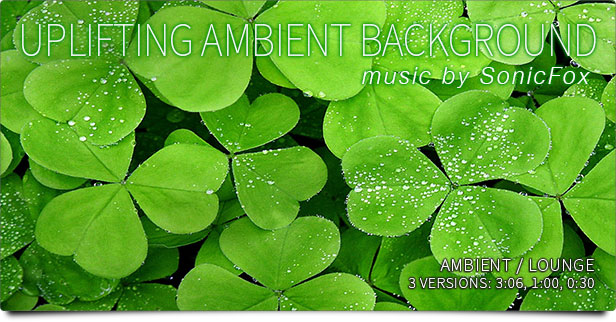 Floating and ethereal, soothing and warm, featuring atmospheric sounds and an hypnotic steady beat that build up to a dreamy and strong uplifting and motivational mood.
This smooth and reflective Lounge background track is a great choice for TV, Video, Film, Documentary (Travel, Nature, Life, Science), Youtube and Vimeo movies and projects needing smooth, relaxing and inspirational background music.

Instruments: Acoustic Piano, Electric Piano, Electronics, Synths, Bass, Drums

3 VERSIONS included for more flexibility:

Version A: 3:06 (full version)

Version B: 1:00 (preview at 3:06)

Version C: 0:30 (preview at 4:06)







Original music specifically composed to fit your project is a powerful storytelling aid. Our professional skills allow us to compose any music genre, tailored to any brief, and we can also apply changes to existing tracks of our portfolio to better suit your needs. Drop us a line, we'll be glad to arrange a great deal to help your project stand out from the competition.