Pack consist of positive, inspiring songs featured acoustic guitar, drums, strings, bass, bells (glockenspiel) and other. Has nice corporate, motivational sound. Really uplifting and happy, great for motivational videos, inspiring videos, corporate, business, commercials, presentations, as background for voice, family footage, sport, animals videos, advertising, etc.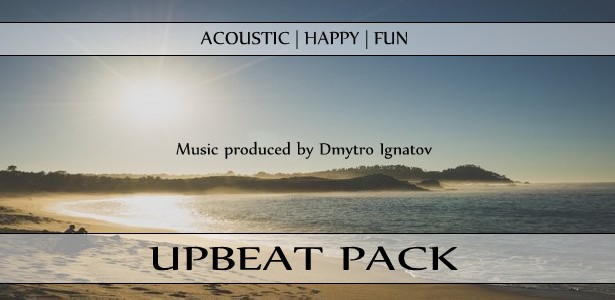 Songs in the pack:
1. Upbeat Length: 2:13 Happy energetic upbeat fun ukulele music played with acoustic guitar, bells, piano, drums, perfect for commercials, children videos, corporate, inspirational, motivational or uplifting projects
Sounds like: happy acoustic music, happy ukulele music, acoustic guitar, cheerful ukulele, positive acoustic music, positive ukulele, upbeat ukulele, upbeat acoustic.

2. Fun Length: 1:56 Happy, easy and inspiring, positive and cheerful acoustic song played by acoustic guitar, simple catchy melodies, shining bells, playful piano, cool percussion – shaker and tambourine, and some hand claps – all of this creates carefree and happy mood. Works great with projects that need positive, relaxed, carefree, upbeat and joyful atmosphere – children videos,commercial, presentation, corporate, family footage, slideshow, product presentation, animation, fun animals video etc.
Also sounds like: happy music, background music, upbeat music, fun music, positive background, happy acoustic, music for children, joyful background music, cheerful music.

3. Upbeat Fun Length: 2:20 Energetic upbeat confident song with great pop rock acoustic sound, grooving vibe, positive melodies, catchy guitar riffs, great for all kind of videos that need energy, smiles and positive! That's what's your video need to be perfect. Sound like: upbeat, fun, happy, upbeat happy, happy upbeat, fresh and fun, upbeat fun, uplifting, confident rock, fun upbeat, uplifting corporate, energetic acoustic, energetic music, acoustic commercial. Featured electric guitar, acoustic guitar, bells, drums, bass, piano.