Save money by buying this track and other 3 similar "happy uplifting" songs, made with unusual instruments.
Are you tired of the boring sound of Ukulele?? Then try something new! In this track I used a small chinese lute, called Liu Quin, tuned like an ukulele, to achieve a similar "uke" sound but yet with a different character and a bit different from a "real" ukulele.
I made a very happy, upbeat, carefree, optimistic and uplifting easy listening tune, with a whistling as a main driver of a catchy melody. The song is arranged with bass, guitar, mallets and drums. It will for sure make your audience smile and will make people happy.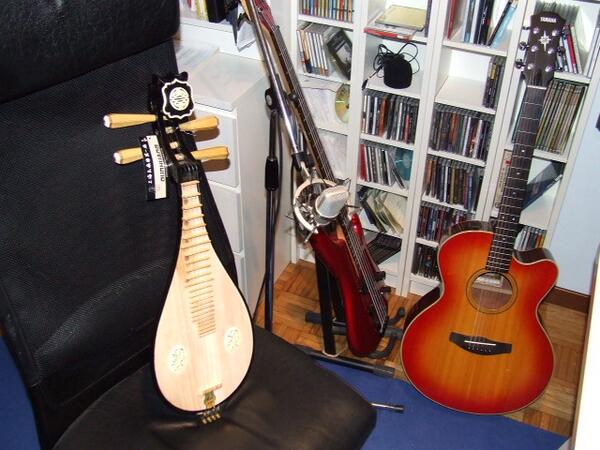 After a short intro, the main whistling theme is presented and then developed and arranged. After the "break" part there is an acoustic and mallet solo, after which the song reprise and ends with a "gran finale" with all the instruments.
This song will make you dance with happiness and will make your day. It will work with any happy video and will make people smile. It will be great to motivate people, encourage, have fun and also for advertisement.
It will be a good track to use if you want to capture todays modern and popular trend of using upbeat ukulele music heard in many of todays pop songs and tv commercial ads, but yet do you want something more original and personal.
You will find different files in the ZIP folder:
The first vesion that you hear in the preview is the "30 seconds cut" version, that will be ideal for advertisements and short video. it's 0:30 long and lasts from 0:00 to 0:34
The complete version follows in the preview, it is 2:33 long (from 0:34 to 3:06 in the preview) and is included as the main file
Then you get a "looped version" of the main theme (from 0:45 to 1:51 in the preview – 1:06 long)
If you need different edits please mail me: it's very easy do them.
Have a look at how I use my music on the background of the nice template "Beautiful day" made by aniloopsanimations
Listen to this track on the background of the great template "Timeline Slides" made by Madlistudio
Listen to this track on the background of the great template "Kinetic Typography, Vintage Retro Style" made by xFxDesigns
Listen to this track on the background of the great template "Corporate Typography Pack" made by pixflow




Look at my youtube channel to listen to my music on the background of several videos made by authors on videohive
Check one of my "happy – uplifting" track: The Happy Mandolin!
Find the song you are looking for:
Corporate, Motivational

Aggressive Metal Loops
Save money with the loop pack 1 and the loop pack 2

Audio logo, Stinger, Identity, Intro
Save money with the Metal Logo Pack 1, Metal Logo Pack 2 or Metal Logo Pack 3. Look at this video featuring my best seller Metal Logo Stinger 1 and this video featuring my Metal Logo Stinger 9

Trailer, broadcasting, action, sport

New age, background and meditative music

Ambient and soundscapes for thriller, suspense and horror
Save money with this ambient pack

Cinematic, Romance, Love, Hate, Passion – Look at this video featuring my music Romantic Piano Melody
Save money with the Romantic Piano Pack

Epic, heroic and fantasy music

Lullabies for baby sleep
Save money with This lullaby pack

Miscellaneous and uncategorized, SFX and weird stuff!