Music description
An upbeat, inspiring and cheerful song with happy vibes, positive thinking, and a hopeful attitude. The positive and happy lyrics can work over a wide variety of projects.
The "dreamer" theme works perfectly for projects ranging from cutting edge technology companies, to companies looking to pioneer new directions, to children videos and family movie projects. The sunny attitude evokes images of flowers blooming, birds flying, and a world of possibilities.
Included in the zip file are the fully produced vocal version of the song as well as an instrumental version. This way, the vocal version may be used and the instrumental version may be inserted as needed to make room for an announcer.
Files included in zip:
"The Dreamer in Me" (2:21)
"The Dreamer in Me – instrumental" (2:21)
To preview the instrumental version, please begin listening at 2:23.


Don't miss the new version of this song!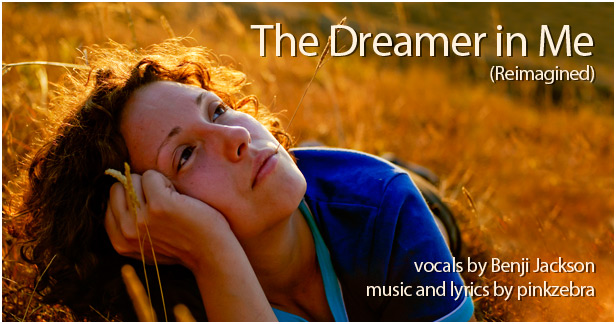 "The Dreamer in Me" lyrics

Take my hand and I'll be your guide
I'll take you places that you'd never find
I know something 'bout a state of mind
I've got the dreamer in me


Roses bloom and the sun will shine
Leave your troubles in the world behind
Stars shine brighter when you free your mind
I've got the dreamer in me


And when we reach the destination you will see
The world is waiting for the ones who hold the key
Just look inside, unlock the possibilities
The dreamer lives in you and me


So take a breath and make the moment last
You'll never know it if you never ask
All you need will be within your grasp
I've got the dreamer in me


And when we reach the destination you will see
The world is waiting for the ones who hold the key
Just look inside, unlock the possibilities
The dreamer lives in you and me


You and me
You and me
To find similar music follow these tags:




Related marketplace items using this track:
Speed Search
Web and social media links






Attention all VideoHive authors:
You may use any of my preview tracks for your VideoHive items provided you give my music track a link in your description (like "featuring the music track 'In the Moment of Inspiration' by pinkzebra"). Also, please send me an email to let me know about your item so that I can include links to your item in my profile and item descriptions to help promote your VideoHive item. Thanks! ~pinkzebra