Are you tired of the classic Audiojungle "ukulele" motivational / corporate tunes?
Then try something new with my "Motivating with a Balalaika"! An happy, uplifting song all with major chords and with some fresh timbre and tuning given by a balalaika I bought in S. Petersburg during a visit in Russia. The song is arranged with bass, guitar, mallets, piano and drums.
Save money by buying this track and other 3 similar "happy uplifting" songs, made with unusual instruments.
The song has a a very positive / upbeat feeling and the balalaika will immediately catch your attention. It will be a perfect addition to any corporate video dealing with happiness and success, to motivate people and to make them smile and dance. It is perfect for transmitting a very positive attitude. I feel it will also work well for moments or scenes in film where a good, energetic and happy mood is desired, for advertisements, commercials and for any funny and happy project.
In the preview you listen to 2 version: the first is a short cut of the song (1:02 long) and the second is the complete song (2:16). The song can be looped without problems. In the ZIP you will purchase there are also an "intro" (0:13) and a "loop" (0:26) wav that can be arranged to loop seamlessly. Please note that the song can be de-structured and re-assembled in many other ways and I can make it loop in other ways depending on your needs. Unfortunately, on AudioJungle I am limited to 5 files in the ZIP pack so I cannot include more loops elements. If you need cuts, looping, short or extended versions, etc do not hesitate to contact me: most if this work can be arranged for free!

This song was featured in the Geometry in Clay template made by clayanimator


This song was featured in the Shape Letter Business Card template made by MaximZebrev
Listen to this music on the background of the video "Corporate Promotion With Greg" made by gerdianghilky
Listen to this music on the background of the video "Motion Graphic Presentation" made by tunaxu
If you like this song you may also like my other corporate – motivational tracks:
Life is good
,
The happy mandolin
and
This is not an Ukulele
*
A video is worth more than 1.000 words. Listen to my cinematic music on the background of this stunning 3D movie:
https://www.youtube.com/watch?v=uFpwIgx5Wfw
Welcome to my home!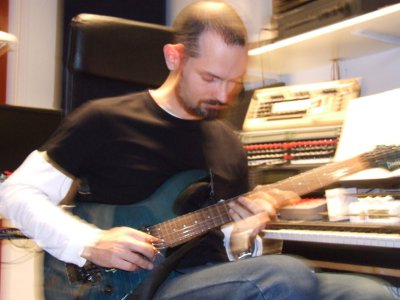 I began playing music when I was a child and I'm involved into computer music since 1999. I deal with a lot of different generes of music, from rock to bombastic soundtracks, from ambient to children's lullabies . The feelings expressed by my music varies a lot from romance and love to epic fantasy, from thriller and horror to hope, joy and happyness: you will find for sure something that suits your needs and tastes in my portfolio!

I'm a guitarist, keyboardist and multi-instrumentalist, with an experimental attitude.
I always put a lot of passion in my productions. Music is meant to drive emotions and to set a mood: this is exacly what you will find here.

I have plenty of exotic instruments collected around the world (indian sitar, chinese erhu, dizi and guzheng, turkish saz, etc) and I like to combine them also with samples and synth sounds from the PC, as well experimenting with sound design, unusual, and custom build instruments.
Since I understand the powerful synergy between audio and video, take also a look at my youtube channel to listen to my music on the background of several videos made by videohive authors
Check out my "Happy uplifting tracks", mostly played with original acoustic instruments:
Life is good!
Motivating with a balalaika
The happy mandolin
This is not an ukulele
Relax and have fun
Happy Charango Advertising
Carefree Happy Shamisen


Find the song you are looking for:
Have a look at my site
Watch my music videos on youtube.
Connect to my facebook page

My music was used in the following videohive items:


Great videohive authors to check out
:


(the next could be you!)

To videohive authors: you can surely use my preview music in your projects! Please link my page and drop me an email so that I can show your video here.
The list of my collaborations are on the bottom of this page. Why not to become the next one?

I have some other personal music projects beside Royalty Free tracks on Audiojungle, check them out!