This Kit was made for creators who love flexibility and simplicity! All parts are made with similar transitions, so they can be easly looped and they are sounding very natural in almost any order. You can use intro, break or outro sections, but it will sound great even without them.
Listen second demo track and you will hear how looping is natural. I recommend sections with tails.
Based on: https://audiojungle.net/item/inspiring-orchestra-four/19302598
What's Inside
16 "no tails" song sections, trimmed on the beat to help you quickly arrange and snap together a guide track for your project.
16 matching "tails" song sections, with natural audio endings for smooth transitions and a seamless final result.
3 ready-to-use demo arrangements for extra convenience and inspiration.
All audio files are provided as high quality WAV (44.1 kHz / 16-bit).
Ableton Live 9.71 project files of the demo arrangements to help you get started.
Song Sections
01_Buildup1 (0:16)
02_Buildup1b_Alternative (0:16) [added impact on first note]
03_Buildup2 (0:16)
04_Buildup3 (0:16)
05_Buildup4 (0:16)
06_Buildup4_BiggerTransition (0:16) [added bigger transition at the end to blend better with bigger energy parts]
07_Buildup5 (0:16)
08_Buildup6 (0:16)
09_Chorus1 (0:16)
10_Chorus2 (0:16)
11_SubBreak (0:01)
12_Outro (0:05)
13_Outro_Alternative (0:05)
14_Intro (0:01)
15_Intro_Alternative (0:03)
Demos
Demo_01 (2:30) was made using these song sections in this order:
14 2 3 4 6 7 8 11 9 10 13
Demo_02 (4:00) was made using these song sections in this order:
15 1 2 3 3 5 6 7 8 9 10 4 5 11 9 12
Demo_03 (1:16) was made using these song sections in this order:
1 4 6 9 12



Search music using catalog below:
Categories:
Instruments & Genres:
Moods:
Purpose:
They say about me: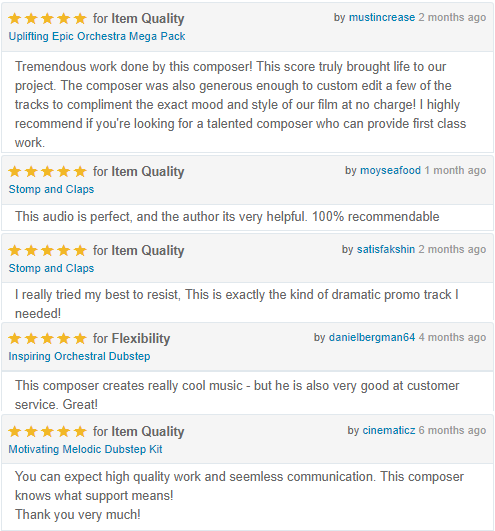 Krzysztof Pietras IPI: 00742598217