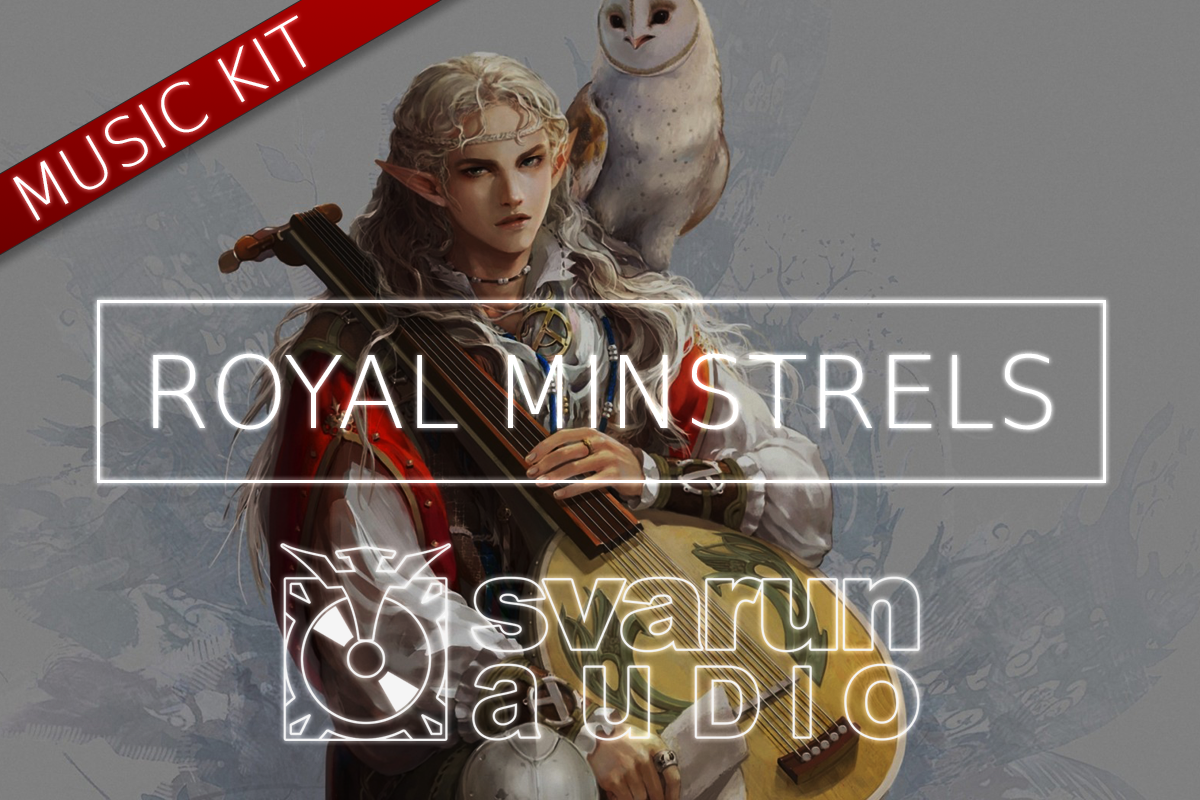 About
Take a seat and stay awhile – listen to the Royal Minstrels play! This joyful, festive, upbeat and positive track painted with the instrumental colors of a medieval era places your audience right in front of the stage where the king's minstrels are performing their latest piece. The track features guitars, pipes, fiddles, hand drums, hand claps and tambourines. It is based on my original AudioJungle item.
This track is perfect for short movies, feature films, videos, video games, documentaries, historical presentations, medieval fairs, tabletop gaming sessions, commercials and advertisement, theatrical plays, lectures, vlog and blog entries, YouTube and Vimeo clips, and much much more!
WAV versions of all files are included!
Song Sections
This Music Kit consists of ten song sections, all of which are featured as "tail" and "no-tail" easy-to-use clips:
01_Intro, 0:12 – Introduction, harp and lute arpeggiated chords played over the hand drum pattern.
02_Verse1, 0:12 – Similar to Intro, with more developed percussion section and string instruments added.
03_Verse2, 0:12 – Similar to Verse1, with added intensity.
04_Solo1, 0:12 – Acoustic guitar solo played over the material from the previous section.
05_Solo2, 0:17 – Second acoustic guitar solo enters in counterpoint to the first guitar.
06_Bridge, 0:12 – Relief section, intensity lowered as the main melody is taken over by recorders.
07_Verse3, 0:12 – Similar to Verse1, with recorders still playing the main melody.
08_Solo3, 0:12 – Similar to Verse3, acoustic guitar solo joins the recorders.
09_Solo4, 0:17 – Similar to Solo3, the second solo guitar completes the melodic interweaving.
10_FinalNote_T, 0:08 – The final note hit for a logical conclusion to the movement (available only in ìtailsî version).
Versions
Royal Minstrels Music Kit also comes with two demo tracks:
Demo 01 (All Main Sections), 2:10 (#1 in Preview)
Demo 02 (Medium Version), 1:14 (#2 in Preview)
Versions
Finally, Royal Minstrels Music Kit comes with a ready-to-use Adobe Audition project with all the clips already loaded and arranged as featured demo tracks.
If you liked this one…
...chances are you'll love some of these: