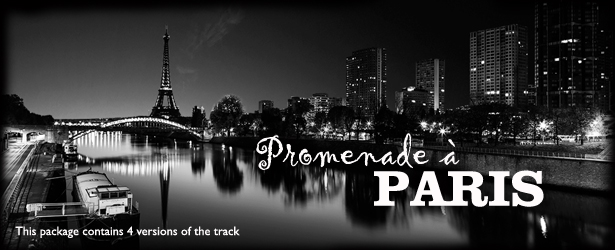 Ahhh! The City of Lights!
Imagine yourself in Paris as you stroll down grand avenues, relax at a café enjoying pastries or just visiting the breathtaking Eiffel Tower. The cellos and violin are used here to evoke a romantic and amusing feeling to your project. "Bonne promenade!"

Important: This package contains 4 versions of the track. Both wave and mp3 files are included in the download.
Promenade à Paris 2:24 @ (0:00 to 2:23 in preview)
Promenade à Paris – logo 0:24 @ (2:23 to 2:45 in preview)
Promenade à Paris – medium length 1:33 @ (2:45 to 4:16 in preview)
Promenade à Paris (no violin melody) – short 0:41 @ (4:16 to 4:55 in preview)