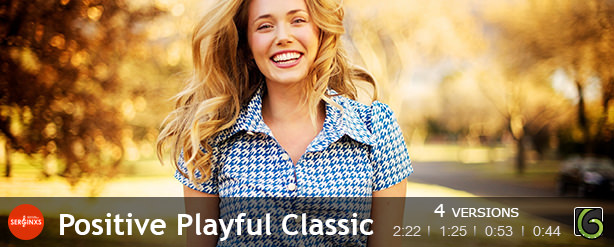 Carefree and positive classical track. Light and playful piano main theme with orchestra creates carefree mood. This kind of music is perfect for so many purposes: business and corporate animations, visualisation any projects about new ideas and creativity, videos about nature, funny videos for kids, families and more. This music will give anyone a bright and sunny mood. Instruments: piano, cello, violin, flute, contrabass, viola, bell.

You can choose any of 4 different length options and customizable for your video. All versions in both formats: WAV & MP3.

Archive contains 4 versions
Main (2:22) – Full version.(in preview from start)


Short (1:25) – Short version with all instruments. Good for standart Youtube video.(in preview from 2:22)


Extra Short (0:44) – Short version without bridge.(in preview from 3:47)


Extra Short Soft (0:53) – More softly short version without bridge with piano variations.(in preview from 4:31)
Feel good and have a nice day!