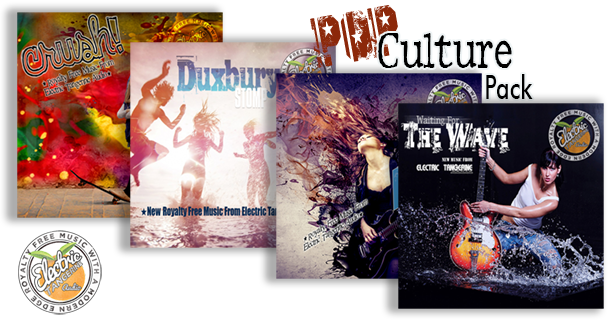 "Pop Culture Music Pack" from Tangerine Media, can add a west coast style shot of cool into your productions. Try out these popular sounding hard rock pop indie & light punk mixes for a hip modern radio sound with a friendly & good time vibe. With plenty of catchy vocal hooks and guitar riffs "Pop Culture Music Pack" will add a new trendy and stylish dimension as a backdrop in commercials, business and home presentations, youtube, promo, sports videos, slide shows, etc.. Includes 4 tracks: Crush (preview 0:01), Duxbury Stomp (preview 2:47), Dada (preview 4:47), and Waiting For The Wave (preview 7:09)
Tracks included:
A fun, enthusiastic, upbeat indie pop rock or light punk anthem with an energetic feel good youthful surfer vibe, and great backing vocals. The addictive background vocal hooks will stick in your head for days – Listen at your Own Risk.
Crush! is an exciting modern vibed rocker with a retro summer beach party feel. Should be great for various projects, Youtube, podcast, video promos, sports, product branding and general commercial use . 
A fun & cool hipster kind of clap along acoustic folk summer anthem with a friendly Americana vibe. "Duxbury Stomp" is a charming, uplifting, hopeful, and positive track featuring simple happy melodies, enthusiastic foot stomps, clapping, energetic acoustic, guitar strums and catchy backup vocal hooks .
Features ukulele strumming and light acoustic guitars. This track is warm, calming, bright, upbeat, easy going, and friendly. should be Suitable for Various Projects, Youtube, Podcast, Spot Production, Promos, Retail, and Other Commercial Applications.
An upbeat, fun and enthusiastic indie pop / hard and heavy rock track with addictive anthem like power, great female background vocal hooks and a feel good rock radio vibe.
"Dada" is a fast paced, cool, animated & melodic high energy rocker with powerful guitar riffs and an infectious party feel.
The fast moving, lively, exciting, get up and go feel of this track makes it perfect for Various Projects, Spot Production Youtube, Energetic Sports Promos, Catchy Web Videos, Podcasts and General Commercial Use.
an upbeat dynamic heavy power rocker with addictive anthem like backing vocal hooks and a feel good summer punk or hard rock sound.
"Waiting For The Wave" is an exciting, heavy and evolving track with high energy, fast pace and powerful guitar riffs that create a feeling of excitement and anticipation. Should be suitable for various projects, spot production Youtube, energetic sports promos, catchy web videos, podcasts and general commercial use.