Dramatic and epic dubstep with orchestra and electric guitar. Soft at the beginning and energetic at the end. Best for motivating and inspiring drone videos, trailer and heroic, epic, action movies, games, presentations etc. Transition audio effects like swoosh and sub included.
Similar tracks: https://audiojungle.net/collections/5883396-modern-electronic
Based on: https://audiojungle.net/item/motivating-dubstep/19403996
What's Inside
16 "no tails" song sections, trimmed on the beat to help you quickly arrange and snap together a guide track for your project.
16 matching "tails" song sections, with natural audio endings for smooth transitions and a seamless final result.
3 ready-to-use demo arrangements for extra convenience and inspiration.
All audio files are provided as high quality WAV (44.1 kHz / 16-bit).
Ableton Live 9.7 project files of the demo arrangements to help you get started.
Song Sections
01_Buildup1a (0:06)
02_Buildup1b (0:06)
03_Buildup2a (0:06)
04_Buildup2b (0:06)
05_Buildup3a (0:06)
06_Buildup3b (0:06)
07_Chorus1a (0:06)
08_Chorus1b (0:06)
09_Chorus1c (0:06)
10_Chorus1d (0:06)
11_Chorus2a (0:13)
12_Chorus2b (0:13)
13_Outro (0:04)
14_Intro (0:00)
15_Break1 (0:03)
16_Break2 (0:01)

Demos
Demo_01 (2:20) was made using these song sections in this order:
14 1 2 5 6 15 7 8 9 10 16 3 4 5 6 15 7 8 9 10 11 12 13
Demo_02 (0:32) was made using these song sections in this order:
1 6 15 7 10 13
Demo_03 (0:46) was made using these song sections in this order:
14 3 6 16 15 7 10 12



Search music using catalog below:
Categories:
Instruments & Genres:
Moods:
Purpose:
They say about me: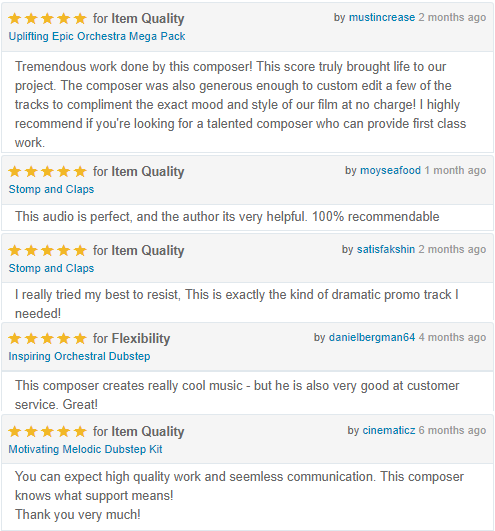 Krzysztof Pietras IPI: 00742598217