This is a kit version of a casual corporate positive and motivating track. Composed with deep bouncy bass, drum beat, spatial synthesisers, bright rhythmic acoustic guitar and a positive melodic lead altogether it forms an interesting music palette suitable to various media appliances such as trailer, animation, commercial, concept, presentation, event music or time-lapse and many other. Kit version makes this track even more versatile.
Based on this track.

Three demo tracks included:
1. Basic sections played one after another 5:24
2. In this track you can hear how sections can easily and smoothly loop 2:22
3. Presentation of various sections in various order 0:57
What's Inside
17 "no tails" song sections, trimmed on the beat to help you quickly arrange and snap together a guide track for your project.
17 matching "tails" song sections, with natural audio endings for smooth transitions and a seamless final result.
3 ready-to-use demo arrangements for extra convenience and inspiration.
All audio files are provided as high quality WAV (44.1 kHz / 16-bit).
Ableton Live 10 project files of the demo arrangements to help you get started.
Song Sections
01_Intro_Swoosh (0:01)
02_Part1_Break (0:07)
03_Part2a (0:15)
04_Part2b (0:15)
05_Part2c (0:15)
06_Part3a (0:15)
07_Part3b (0:15)
08_Part3c (0:15)
09_Part4a (0:30)
10_Part4b_Buildup (0:15)
11_Part5a (0:30)
12_Part5b_Bridge (0:15)
13_Part6a (0:30)
14_Part6b_Buildup (0:15)
15_Part7 (0:30)
16_Part8a (0:30)
17_Part8b_Outro (0:19)
Demos
Motivating Corporate Background Kit_01 (5:24) was made using these song sections in this order:
1 2 3 4 5 6 7 8 9 10 11 12 13 14 15 16 17
Motivating Corporate Background Kit_02 (2:22) was made using these song sections in this order:
9 9 10 17 17
Motivating Corporate Background Kit_03 (0:57) was made using these song sections in this order:
9 12 2


Search music using catalog below:
Categories:
Instruments & Genres:
Moods:
Purpose:
They say about me: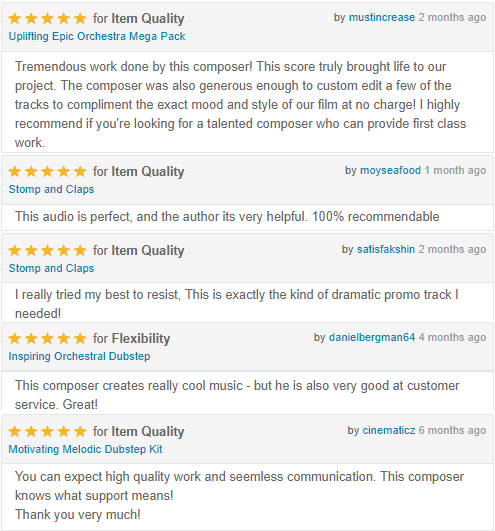 Composer: Krzysztof Pietras ZAIKS Poland IPI #00742598217 Publisher: Golden Shark ASCAP USA IPI #384548327