Cinematic music – the sound of a symphony orchestra, bright and powerful – a great background for news, trailers, stories about world events, the fate of people, conflicts and politics … but not only
The set includes patterns that are not available in the main track!
Based on my original AudioJungle item: Morning News Orchestral Cinematic
What's Inside

18 "no tails" song sections, trimmed on the beat to help you quickly arrange and snap together a guide track for your project.
18 matching "tails" song sections, with natural audio endings for smooth transitions and a seamless final result.
2 ready-to-use demo arrangements for extra convenience and inspiration.
All audio files are provided as high quality WAV (44.1 kHz / 16-bit).
Demos:

Demo Song_1 (1:46)
Demo Song_2 (2:14)

All Demos Made from completely different pieces with "tails"
Song Sections
01_Intro_A (0:14) Piano Arp, Drums, No kick
02_Intro_B (0:14) Piano Arp, Strings, Drums, No kick
03_Intro_C (0:14) Piano Arp, Strings, Drums, Kick
04_Intro_D (0:14) Piano Arp, Strings, Pad, Drums, Kick
05_Main_A (0:14) Full Orchestra, Strings Run, Pattern 1
06_Main_B (0:14) Full Orchestra, Strings Run, Pattern 2
07_Main_C (0:14) Full Orchestra, Strings Run, Pattern 3
08_Main_D (0:14) Full Orchestra, Strings Run, Pattern 4
09_Bridge_A (0:14) Soft Piano Arp, Soft Drums
10_Bridge_B (0:14) Soft Piano Arp, Full Drums
11_Chorus_A (0:14) Full Orchestra, Solo Horns, Pattern 1
12_Chorus_B (0:14) Full Orchestra, Solo Horns, Pattern 2
13_Chorus_C (0:14) Full Orchestra, Solo Horns, Pattern 3
14_Chorus_D (0:14) Full Orchestra, Solo Horns, Pattern 4
15_Additional_A (0:14) Strings Chords, Soft Drums, No Kick
16_Additional_B (0:14) Piano Run, Soft Drums, No Kick
17_Ending_A (0:05) Piano Run, Drums, End Point 1 Tact
18_Ending_B (0:05) Strings Chords, Drums, Kick, End Point 1 Tact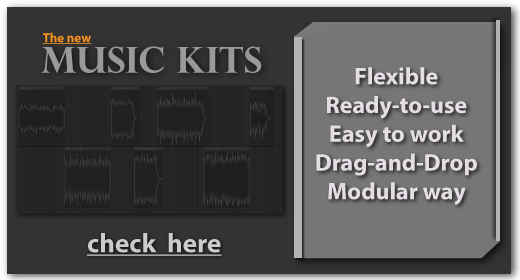 >