Big cinematic action orchestral music, including 4 shorter variations for trailers or teasers and a longer complete version. Massive drums and percussion, large strings and brass section, this track is built using predominantly traditional symphonic orchestra palette without any explicitly electronic elements: the piece will work great for nearly any setting – historic, fantasy or modern.
This epic cinematic piece is continuously evolving through vigorous action sequences, sense of danger, struggle, heroic motives, and arrives to the beautiful breathtaking emotional theme that is interrupted with yet another burst of energy. Provided variations are made distinct by using different combinations of this moods/phases and will allow you to achieve the desired emotional impact.
Included in the download:
1. Complete version (2:24)
2. 15-second teaser (0:15) [starts at 2:27 on the preview]
3. 1-minute trailer (1:00) [at 2:43 on the preview]
4. 30-second trailer 1 (0:28) [at 3:44 on the preview]
5. 30-second trailer 2 (0:30) [at 4:16 on the preview]
The curiosity is killing me: let me know how did you use my music! I'd love to hear about your project. Get in touch via my profile page (contact form in the right column), twitter or my website.
Similar Tracks: More Cinematic Action!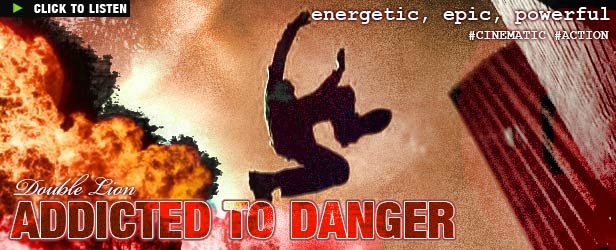 Collections
Listen to other tracks by Double Lion
Contact Double Lion directly.
Questions, special requests, commissions – contact form and social media links are available at
my profile page
.