This pack consist of happy corporate acoustic background music, acoustic pop background songs that sounds really inspirational, soft, motivational, calm, positive, beautiful and will be really useful for your media production. These songs were played with acoustic guitar, drums, bass guitar, guitar harmonics, percussion. Sounds like happy background music, upbeat acoustic, presentation music, commercial music, background acoustic music, happy acoustic song, positive acoustic music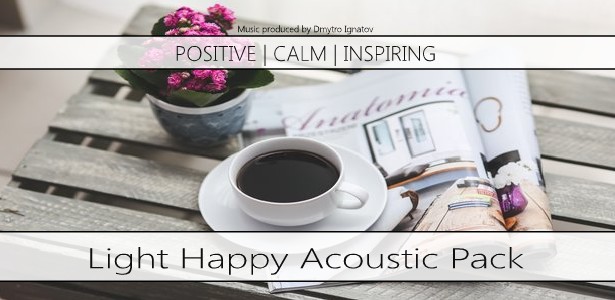 Songs in the pack:
1. Light Acoustic Commercial Length: 2:06 Easy, light, sunny, inspiring, simple happy acoustic royalty free music that will fit perfectly as background music to your commercial, royalty free music for youtube video, royalty free music for powerpoint presentation, romantic videos, wedding videos, photo slideshows, inspirational projects, motivational presentations, as well as other projects. Feautures light acoustic guitar, jazz style drums, percussion, congas, shaker, piano.

2. Light Happy Acoustic Background Length: 2:13 'Light Happy Acoustic Background' – is a warm, relax, happy inspiring acoustic song played with beautiful acoustic guitar and guitar harmonics. Creates unique calm and positive atmosphere, sounds really motivational, inspiring, light, airy, soft, carefree, with summer beach breeze feeling
Nice, upbeat and happy mood of the song will fit awesome your commercial, motivational inspiring videos, slideshow, kids video, happy presentation, corporate video, time lapse video, romantic video, wedding video, love story, anything that need carefree, cheerful, sweet, joyful, warm, sunshine atmosphere.

3. Happy Mellow Acoustic Length: 2:17 Light warm happy positive melodic acoustic track played with acoustic guitar and percussion. Sounds really romantic, peaceful, relaxing, inspiring. Great music background for promo video, presentation, corporate presentation, travel, family slideshow, commercials,vacation, holiday.