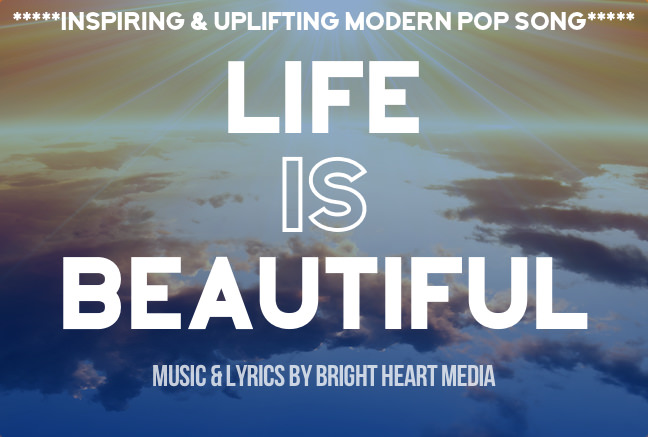 Bright Heart Media – Life is Beautiful
Life is Beautiful is an upbeat fun and pumped up modern pop song featuring a feel good groove. With catchy melodies and bright optimistic male vocals, the motivating lyrics inspire to live in the moment and reach for your dreams.
Life is Beautiful is a perfect soundtrack for todays advertising and commercial needs, film work, corporate presentations, montages, YouTube videos, family slideshows and any projects that need an inspiring, energetic music track with positive life messages.
For flexibility both the full song and instrumental versions are included with your purchase. Also included is the background vocal only track, which has the background vocals entering on the chorus sections only
Files included in the zip:
Full version (3:42), WAV and mp3
Instrumental (3:42), WAV and mp3
Background Vocals only in chorus (3:42), WAV and mp3
Verse One
It feel so good, inside
we're never coming down, let's take, a ride
And turn it all around
We'll make today, nothing like before
The best day ever
See the world, the sights
Just open up your eyes, and come alive
The sun is gonna rise
And shine, so bright, I know you and I
Will live forever
Chorus
Life is Beautiful, Life is Beautiful
Life is Beautiful, Life is Beautiful
Verse Two
The sun, the sky, stars
I'll meet you where they are, the world is ours
Waited all your life
The time is right, we could have it all
Here together
Dream it big, out loud
Reaching up so high, above the ground
See it in your eyes
They come, alive, I know you and I
Could live forever
Chorus Two
Life is Beautiful, Life is Beautiful
Life is Beautiful, Life is Beautiful
Bridge
So hold on tight, We'll make this life The best that it can be
The time has come, We've just begun As far as I can see, it's beautiful
Chorus repeat and end
Attention all VideoHive authors:
You may use any of my preview tracks for your projects provided you give my music track a link in your description (like "featuring the music track 'Life is Beautiful' by Bright Heart Media"). Also, please send me an email to let me know about your item so that I can include links to your item in my profile and item descriptions to help promote your project. Thanks! ~Bright heart Media