Since today it's your birthday, it's time to CELEBRATE!
I composed a very happy and uplifting song, perfect for a party and to be sung together with just a guitar (chords are G, D, C!). The main melody is very captivating, extremely catchy, and I assure it will be struck in your head right after the first listening.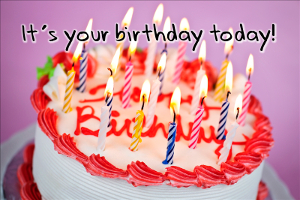 The song begins with a simple guitar progression with a percussion and builds up by adding additional instruments (mallets, bass, drums, additional stringed instruments similar to ukulele, synths, brass, choirs) as the song proceeds.
Of course, it is the ideal song for birthday video projects /slideshows / templates that needs to be happy, uplifting and funny.
Four versions are included:
Main song with lyrics (1:19 long)
instrumental version (1:19 long)
short version (0:26 long)
short instrumental version (0:25 long)

Vocals by Luca Rebecchi, music and arrangement by Matteo Bosi
Lyrics by Matteo Bosi, Costanza and Luca
It's your birthday today
happy birthday to you
It's your birthday
we sing this song for you

It's your birthday today
happy birthday to you
It's your birthday
we sing this song for you

Another year has gone
and another one is coming
may this year be full of happiness and fun

on this day we stay together
we'll be happier than ever
celebrating and singin' along

It's your birthday today
happy birthday to you
It's your birthday
my only wish is all the best for you

It's your birthday today
happy birthday to you
It's your birthday
we sing this song for you

It's your birthday today
happy birthday to you
It's your birthday
we sing this song's for you

Check out my "Happy uplifting tracks", mostly played with original acoustic instruments:
Life is good!
Motivating with a balalaika
The happy mandolin
This is not an ukulele
Relax and have fun
Happy Charango Advertising


Find the song you are looking for: