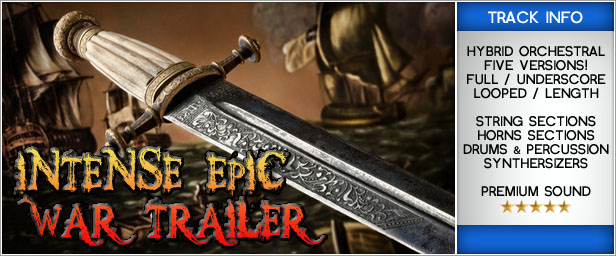 This intense, dark, epic, and bombastic war trailer music has been composed with massive drums, huge string sections, blasting horns, and an epic choir to produce a gigantic cinematic orchestral sound. This is the perfect track to enhance your your project with its huge and vast sound to totally enthral the audience.
INCLUDES FIVE VARIATIONS!!!
Full Length Version (2:57)
Medium Length Version (2:05)
Medium Length Underscore Version (2:05)
Short Length Underscore Version (1:29)
Short Length Looped Version (1:36)

MAIN INSTRUMENTS Layered spiccato and legato string sections, monster horns, trumpet solo, layered male and female choirs, electric guitar, synthesizer bass lines, epic taiko drums, huge tubular bells and cymbals, and percussion.
SIMILAR ARTISTS Hans Zimmer, Two Steps From Hell, Audiomachine, James Newton Howard, John Williams, Brian Tyler, Carl Douglas, James Horner, John Powell, Nick Phoenix, Thomas J. Bergersen, Ramin Djawadi