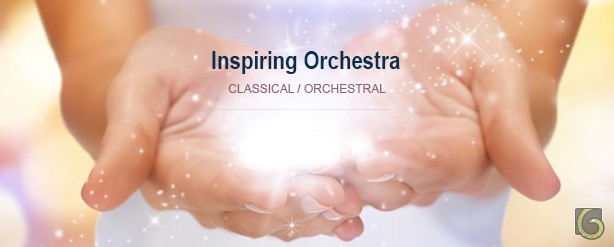 Pack with 3 inspiring and uplifting classical orchestral music tracks.
All versions in both formats: WAV & MP3.
Pack contains 3 tracks:
Inspiring Orchestra – 4 versions ( (in preview from start) Tempo 125 BPM
Inspiring uplifting orchestral music that tells a fair fairy tale or a story filled with positive, energy and happiness. Uplifting Classic contains piano, strings and orchestra, percussion with an optimistic and motivational touch. You can use INSPIRING ORCHESTRA to enhance the effect of success, victories. Show dynamics, current, development in the presentations, videos, corporate perfomances.


Version_A (2:10)
Version_B (1:36)
Version_C (1:05)
Version_D (0:36)
This track available in a Inspiring Orchestra KIT



Uplifting Orchestra – 3 versions / (in preview from 2:10) Tempo 175 BPM
Classic inspirational orchestral track. Full strings, brass and percussion sections make a holiday and a positive mood. Ideal for any motivational, artistic, advertising, cinematographic, educational media projects. This music also has a Christmas atmosphere and is appropriate for promoting Christmas events.

Main (2:13)
Short (1:15)
Extra short (0:53)



Cinematic Inspiring Strings – 2 versions (in preview from 3:35) Tempo 105 BPM
Inspiring and positive modern classical track with small string orchestra. Carefree and light mood. Perfect for any positive projects background.




Feel good and have a nice day!