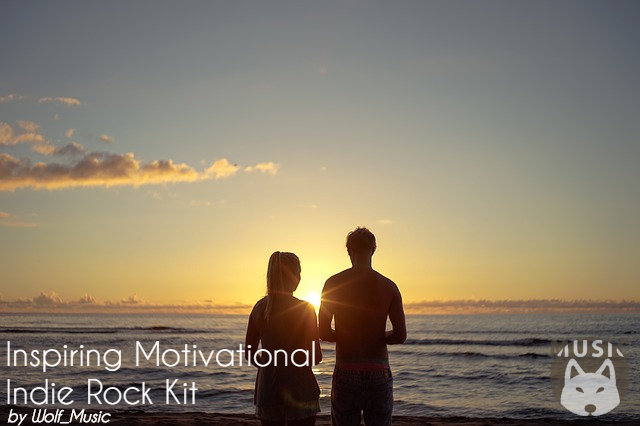 This MUSIC KIT, based on my original AudioJungle composition, Inspiring Motivational Indie Rock
Inspiring Motivational Indie Rock is an inspiring, energetic, modern, catchy, stylish indie rock music track. It has a driving electric guitar rhythm along with soft piano arpeggios.
This background pop rock is a perfect choice for motivational tv advertising, radio, films, viral marketing, party, web advertisements, action movies, trailers, youtube, extreme and sport videos, slideshows, action games, applications, backgrounds, tech blogs, timelapse, presentations, promotions, commercials, visuals, vlogs, GoPro videos, tv or radio shows, business, family videos and more.
Instruments: drum set, bass guitar, electric guitars, strings, piano, synth pads, claps.
Demo Tracks:
1. Demo1_AllMainSections – 1:52.
2. Demo2_ExtendedVersion – 2:41.
3. Demo3_ShortVersion – 0:55.
Track Sections
No Tales:
01_Intro (0:07).
02_Pre_Chorus (0:07).
03_Verse (0:07).
04_Verse_2 (0:07).
05_Chorus (0:07).
06_Chorus_2 (0:07).
07_Intro_2 (0:14).
08_Bridge (0:14).
09_Chorus_3 (0:14).
10_Chorus_4 (0:14).
11_Outro (0:12).
Tales:
01_Intro_T (0:08).
02_Pre_Chorus_T (0:08).
03_Verse_T (0:08).
04_Verse_2_T (0:08).
05_Chorus_T (0:08).
06_Chorus_2_T (0:08).
07_Intro_2_T (0:16).
08_Bridge_T (0:16).
09_Chorus_3_T (0:16).
10_Chorus_4_T (0:16).
11_Outro_T (0:12).
Did you like this track? Rate it please

You may also like
Motivational Inspiring Indie Rock
Cinematic Piano Ambient
Stylish Indie Rock
Indie Rock
Upbeat Indie Pop Rock

To VideoHive Authors
You are more than welcome to use this track for your VideoHive projects. Please post the link in your item description and drop me a line!