Inspiring Acoustic Guitar Pack consist of happy, beautiful and inspiring composition featured acoustic guitar, percussion, claps, bells, drums. Perfect for your inspiring media production. Use it with corporate projects, commercials, advertising, presentations, motivational and inspiring videos, family videos, wedding footage etc.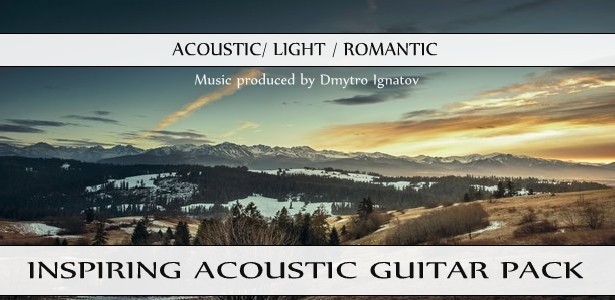 Songs in the pack:
1. Happy Inspiring Acoustic Guitar Length: 1:35 Happy Inspiring Acoustic Guitar – beautiful light acoustic composition played with guitar, drums, strings, bass and percussion. Really easy, positive and inspirational – perfect for different kind of production – presentations, wedding footage, slideshows, photography, love story, commercial, family video, nature video etc. Sounds like: acoustic guitar, inspiring acoustic, beautiful acoustic guitar, inspirational soundtrack, guitar music, acoustic for film, slideshow guitar music, commercial acoustic guitar, calm acoustic, happy acoustic, guitar music for video, inspiring music, inspirational music.
Has great looping and editing possibilities.

2. Airiness Length: 2:14 Airiness – beautiful, emotional, lovely, inspiring, light, delicate, smooth, fresh, positive, calm motivational song, that will bring those emotions and feelings into your production. Works great with wedding footage, family footage, presentation, commercial, love story, slideshow, corporate, inspiring, motivational videos etc.
Featured beautiful acoustic guitar, soft emotional piano, bells, strings, percussion, claps, bass guitar.
Sounds like :beautiful acoustic, emotional background, emotional guitar, emotional music, acoustic guitar music, happy acoustic guitar, romantic music, calm music, inspiring music, motivational music, love music, friendly music, inspiring background, motivational background, acoustic background, guitar background, romantic background, beautiful background, Christmas background, music for slideshow, music for presentation, wedding song, song for wedding, music for wedding video, wedding video music, wedding music.

3. Romantic Inspire Length: 2:27
Beautiful and inspiring, sentimental romantic acoustic guitar song, featured percussion, drums, bass, bells, strings. Really great for inspiring video production because of its calm and positive sound. Sound really relaxed and motivational, peaceful and refresh. Enjoy it! It will work great with your production. Sounds like: inspiring music, relaxing music, emotional music, calm acoustic, beautiful slow music, romantic acoustic music, piano guitar music, emotional piano, emotional guitar.