Inspirational Piano Pack
8 minutes of beautiful, emotional, catchy melodies, that will fit any kind of production!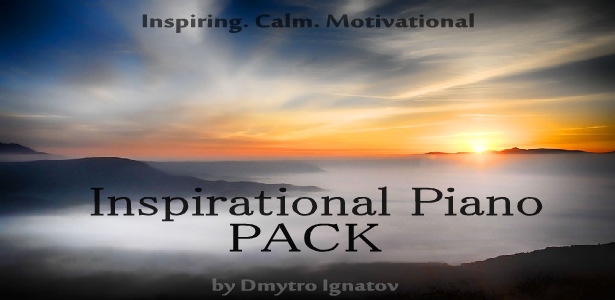 Inspirational Piano Pack – that's inspirational, motivational, piano pack. Sounds really positive, uplifting, inspiring, happy, hopeful. It's really emotional, bright, soft, romantic, touching, warm, sentimental. Also sounds like inspiring piano, emotional piano, inspirational piano, beautiful piano, elegant piano, touching piano, uplifting piano.
It will touch you, it will touch your customers, so download and see it.
It will be awesome background for for your project – cinematic, film, wedding, photography portfolio, beautiful presentation about nature, travelling, family videos, tv advertising, viral marketing, business videos, financial, team building videos, commercial, inspiring backgrounds, presentations, visuals, corporate projects, video backgrounds and much more…
It's awesome for montage, timelapse videos, marriage videos and photos, because it sounds really romantic, relaxing, lovely, soft.
Mood: inspirational piano, pop, uplifting, hopeful, beautiful, upbeat, soft, inspired, motivational, uplifting, optimistic, catchy, positive, successful, easygoing, lighthearted, corporate, peaceful, soft, relaxed, happy.
Songs in the pack:
1. Piano mark 0:00 (duration – 2:40)
2. Beautiful Piano mark 2:39 (duration – 2:20 for both)
3. Inspirational Piano mark 5:00 (duration – 2:23)
VideoHive authors, feel free to download this track and just contact me through the Contact Form, so I can promote your work! Please leave reviews of purchased tracks and don't forget to rate after your purchase!