'Inspirational Piano Music Pack' – What music to choose to inspire your listeners? Do you look for an elegant calm inspirational piano music that will bring the best feelings to your audience? They deserved to be inspired with the best and top quality piano songs.
'Inspirational Piano Music Pack' is for you then. That is an amazingly beautiful collection of great inspirational piano compositions that not only inspire you, your listeners, audience and customers but bring your production to whole other quality level making it really professional, amazing and really valuable, and – bringing attention of your audience to your product. Because everybody loves inspiring, motivational and elegant sound of inspirational piano, so it's a perfect choice for your inspiring video production, presentations, wedding and love story videos, time-lapse videos, inspirational slideshows and emotional YouTube videos, commercials and highly inspirational advertisements.
And not only that – with 'Inspirational Piano Music Pack' you save your money so it's profitable for you! And you'll find it's value even more than that.
So here you go! Get 'Inspirational Piano Music Pack' today and add up magnificent inspirational feelings to your production and let your audience and customers enjoy your product and be inspired about what you present to them.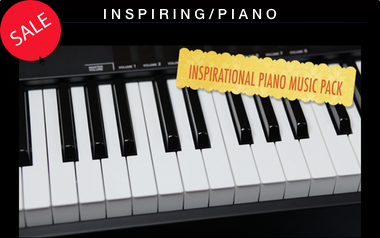 The pack consists of:
1. Wedding Romantic Piano Music (Mark 00:00) Duration – 2:28
2. Inspirational Piano (Mark 2:27) Duration – 2:43
3. Inspiring Piano With Orchestra (BESTSELLER) (Mark 5:07) Duration – 2:28
4. Mellow and Inspiring Piano (Mark 7:35) Duration – 2:19
Take your project to another level, Inspire and motivate your audience with 'Inspirational Piano Music Pack

Feel free to get other great production items here.
And if you buy – please take a second to rate! It's really important. Thanks!
IF YOU PREFER CORPORATE MUSIC, CHECK OUT THIS PACK: