Powerful Hi-Tech transforming sound effects for your project.
You can use it for openers, intros, stingers, Video fx, Radio fx, TV, video games, websites, flash animations, clips, cinematics and anything else.
All included files are in both of versions: Wav and Mp3.
1_Hi-Tech Transforming FX 01: 0:07
2_Hi-Tech Transforming FX 02: 0:06 (play in preview from – 0:06 sec.)
3_Hi-Tech Transforming FX 03: 0:12 (play in preview from – 0:20 sec.)
Thanks for purchasing.
Please, don't forget about rating, it is big stimulus for me, but for you it's just click on star.
More robotic and transformer sounds and logos are here, in my collection: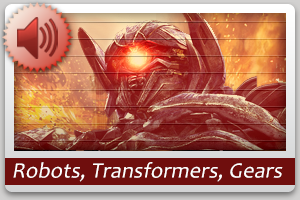 Enjoy My music and sound fx!