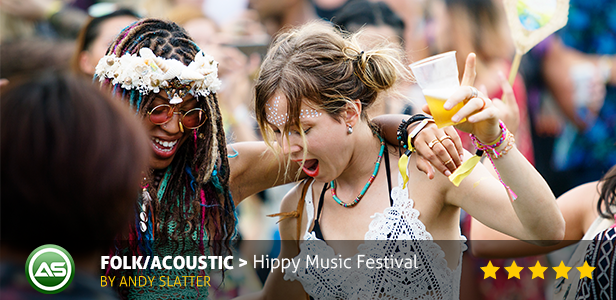 Hippy Music Festival
The new royalty free track by Andy Slatter
featuring real instruments
, such as strummed steel strung acoustic guitars, mandolin,and nylon strung guitar, combined with upright bass, sitar, and eastern string sections and tablas. This track utilises alternative tunings, and is a nod to the folkier and ethnic/world music side of bands such as
Led Zeppelin, The Beatles, Strawbs
, and some
psychadelic bands
, for music with
unique character
.
A chromatically ascending figure plays over drones, mandolin and nylon strung guitar melodies set a mood, sitar and eastern sounding string sections, supported by tabla, then transport us to far off lands.
This track would be ideal for travel, camping, adventure holidays (particularly for North Africa, India, etc.) but also great for fashion, youth culture, hippy and psychadelia themes, for music festival advertising and footage, for films, documentaries, music shops, ethnic and world music and crafts projects, fair trade, alternative therapy, meditation, retreats, vegan cafes, buddhist themes, Bollywood, belly dancing, and yoga sites and events.
Zip Contents (in high quality wav):
Hippy Music Festival_Full track 2:16
Hippy Music Festival_Intro Loop 1 0:11
Hippy Music Festival_Intro Loop 2 0:11
Hippy Music Festival_Intro Loop 3 0:11
Hippy Music Festival_Final Chord 0:08
The bpm is 90, you can easily use the provided loops to make custom lengthed extended underscore versions of the track and use the final chord to make an ending. You'll also find most sections of the full track are loop ready if you want to loop other sections. Or you can use the full track as is, and/or, use the loops just to extend some sections. The loops and final chord, are straight cuts from the main track.

;
Let me know if you have any questions.